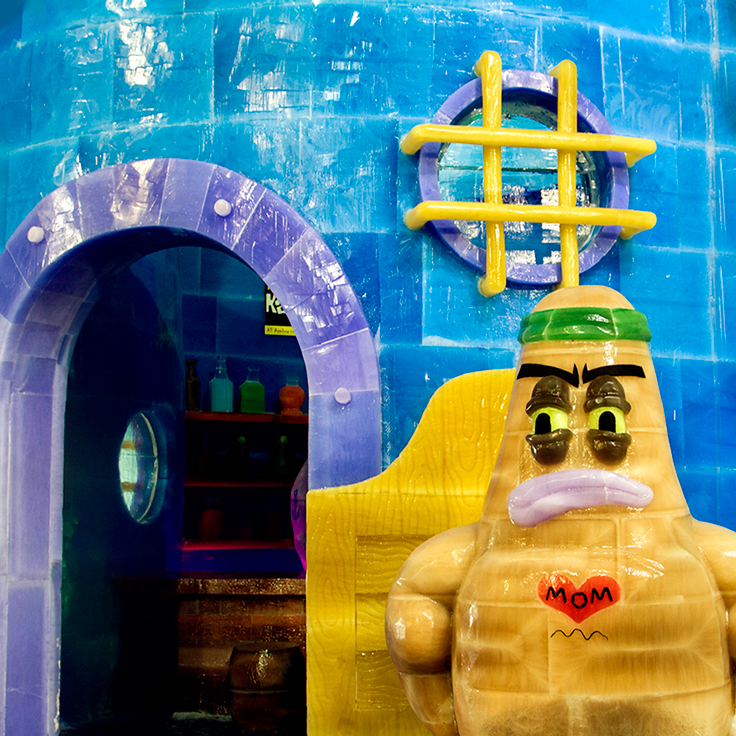 Shivvvver me timbers! SpongeBob, Patrick and his friends are getting an ice-tastic makeover at Moody Gardens' Ice Land, in Galveston, Texas, from November 14 through January 10. The holiday ice exhibition will feature frozen sculptures of some of the show's favorite characters, frosted!
Here's all you need to know about Ice Land, by the numbers:
30 ice carvers from Harbin, China have been commissioned to create the holiday scenes
1,000 tons of ice being used to carve this majestic Bikini Bottom world that includes a full-scale Krusty Krab!
40 unique Character Sculpts including SpongeBob, Patrick, Sandy, Squidward, Mr. Krabs, Plankton, Larry the Lobster, The Flying Dutchman, the giant Alaskan Bullworm, and many more….
33-foot-tall soaring icicle masts atop the Flying Dutchman's ship
28,000 square feet of temperature-controlled space, which can accommodate 800 visitors
9 degrees, the chilling temperature of the exhibition tent, which will be maintained throughout the holiday season
1,000 parkas available for you to suit up and venture inside!
Check out our favorite spongy nice-guy-gone-ice-guy! Click here to plan your visit.