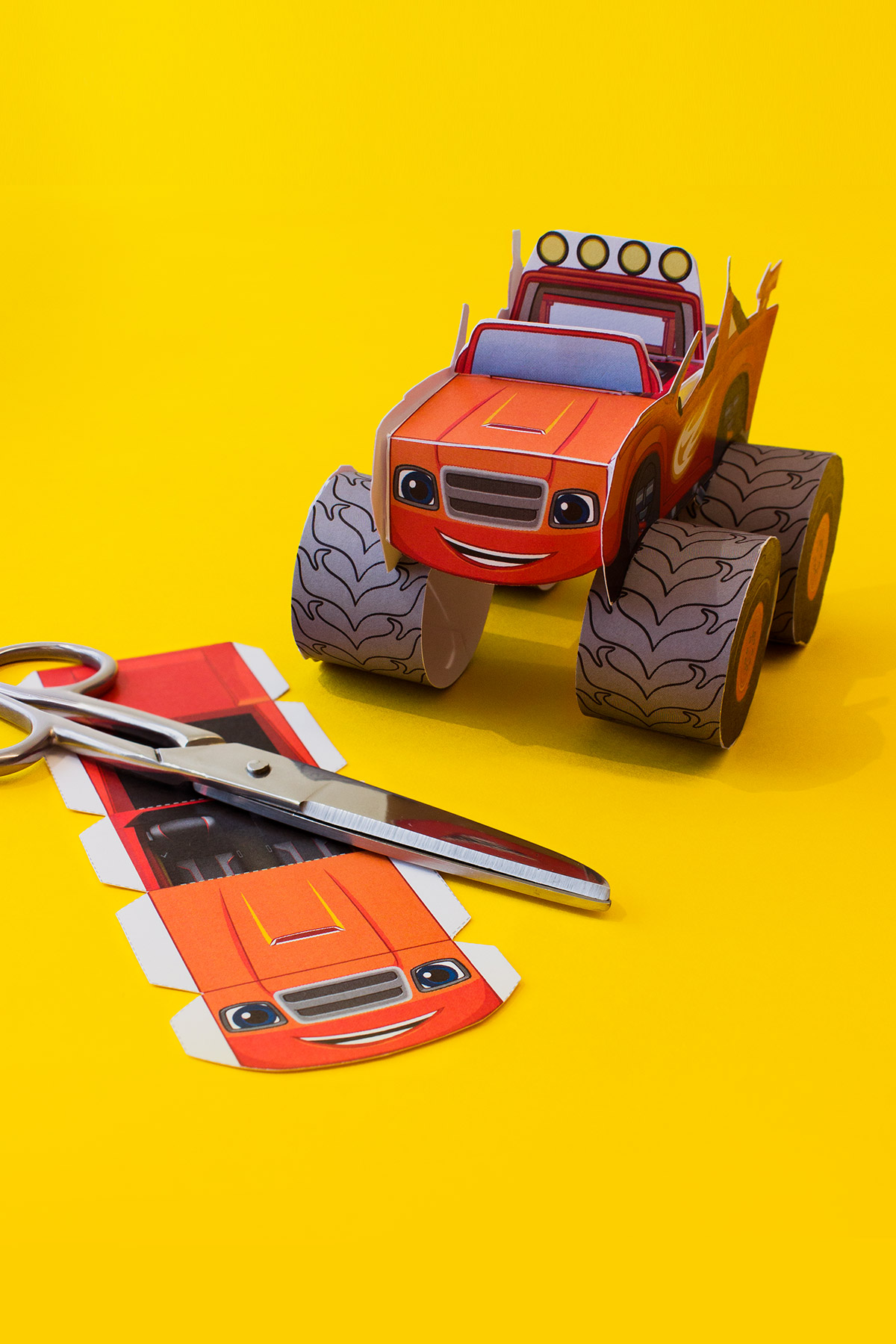 Blaze and the Monster Machines has engines and ingenuity, plus tons of epic transformations. Wow your child with a Blaze craft that transforms an average piece of paper into their favorite speedy hero!
(Difficulty Level: Medium)
What You'll Need
Scissors
Craft knife
Glue stick
Heavy weight paper
Tape (optional)
Blaze template (print below!)
How to Make

Step 1: Print Blaze template on card stock or other heavy weight paper and work with your kids to cut out all the pieces.
Step 2: Make the wheels
2a: Gather pieces for "Tire A." With a craft knife, score the ends of the tabs on the wheels and cut a slit along the dotted lines on the tire treads.

2b: Apply glue to the tab on the tire tread and wrap the piece around to attach. Hold until glue is dry. (Tip: Apply tape to the back to reinforce.)
2c: On the wheel, fold the four tabs back and apply glue.

2d: Making sure the bottom of the wheel and bottom of the tire treads are aligned and the slit in the treads is on top (closest to you), lower the treads onto the wheel and place the tabs inside. Hold until the glue is dry.
Repeat steps a-d for the remaining tires.

Step 3: Make Blaze's body
3a: Score along the tabs and where otherwise noted. Cut slits along the two dotted lines. Bend along the scored lines to see Blaze begin to take shape.
3b: Fold the tabs on one side back and apply glue.

3c: Lower onto the back of Blaze's side cut out and press firmly on the tabs as you position into place.
Repeat for the tabs on the other side.
3d: For the windshield and lights, score along the middle, apply glue to the back and fold in half to join the two sides together. Set aside.

Step 4: To attach wheels, insert the car body into the slit. It helps to push the back side of the wheel down and push it up again once it's in place. Repeat for the other 3 tires.
Step 5: Grab the windshield and lights you made earlier and bend slightly at the tabs. Insert into the two slits on the top side of Blaze.