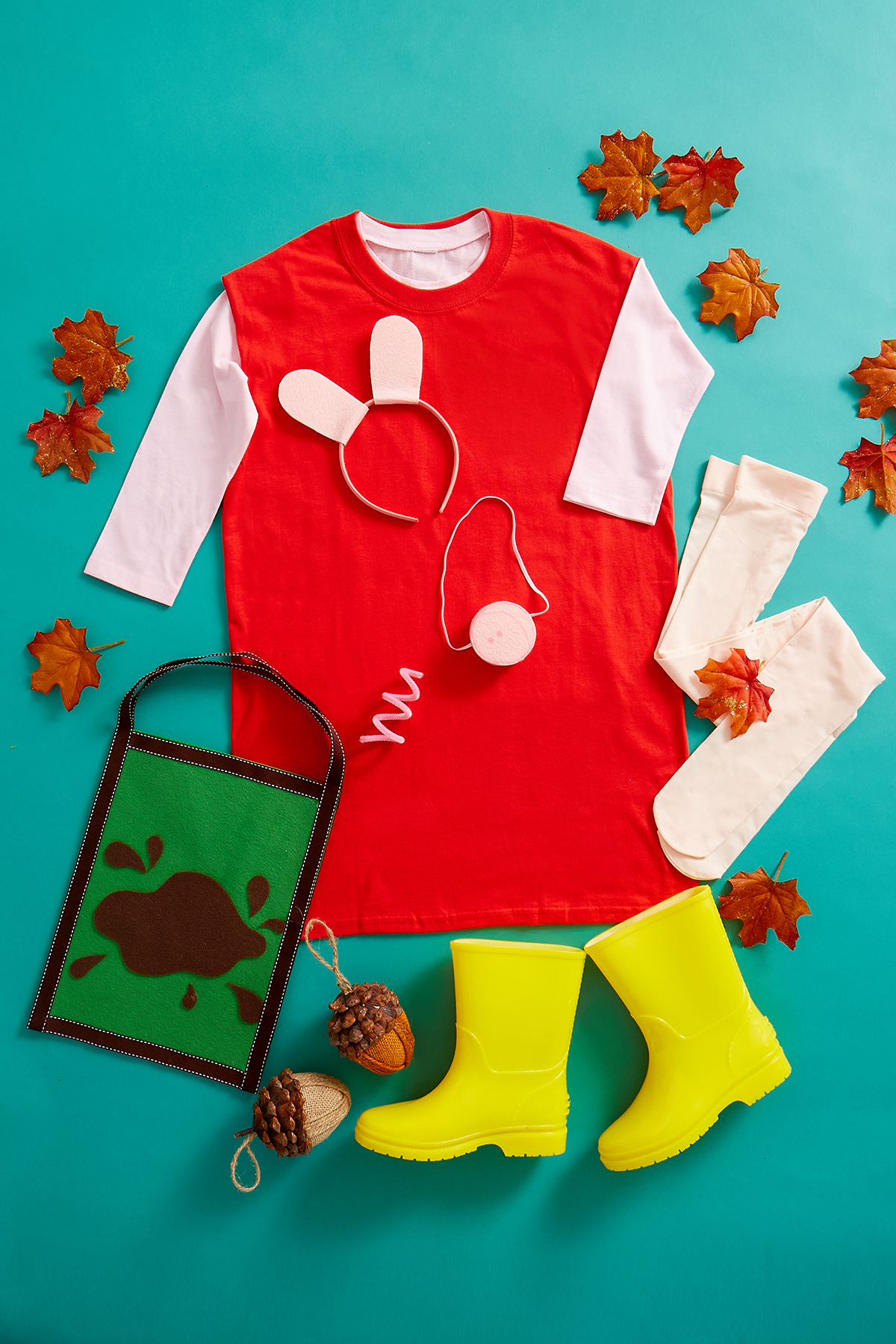 Looking for a super adorable costume for your Peppa fan without the hassle of Halloween store shopping? Look no further than this DIY Peppa Pig costume! All it takes are some simple supplies you can get from your own home or local craft store, and you'll have your preschooler trick-or-treat ready in no time.
What You'll Need
Brown ribbon
Oversized red t-shirt
Light pink long-sleeved kids shirt
Light pink headband
Light pink tights
Yellow rain boots
Felt sheets, brown, green, and light pink
Black fabric marker
Construction paper
Pink pool noodle
Pink marker
Elastic string
Scissors
Craft blade
Hot glue gun and sticks
How to Make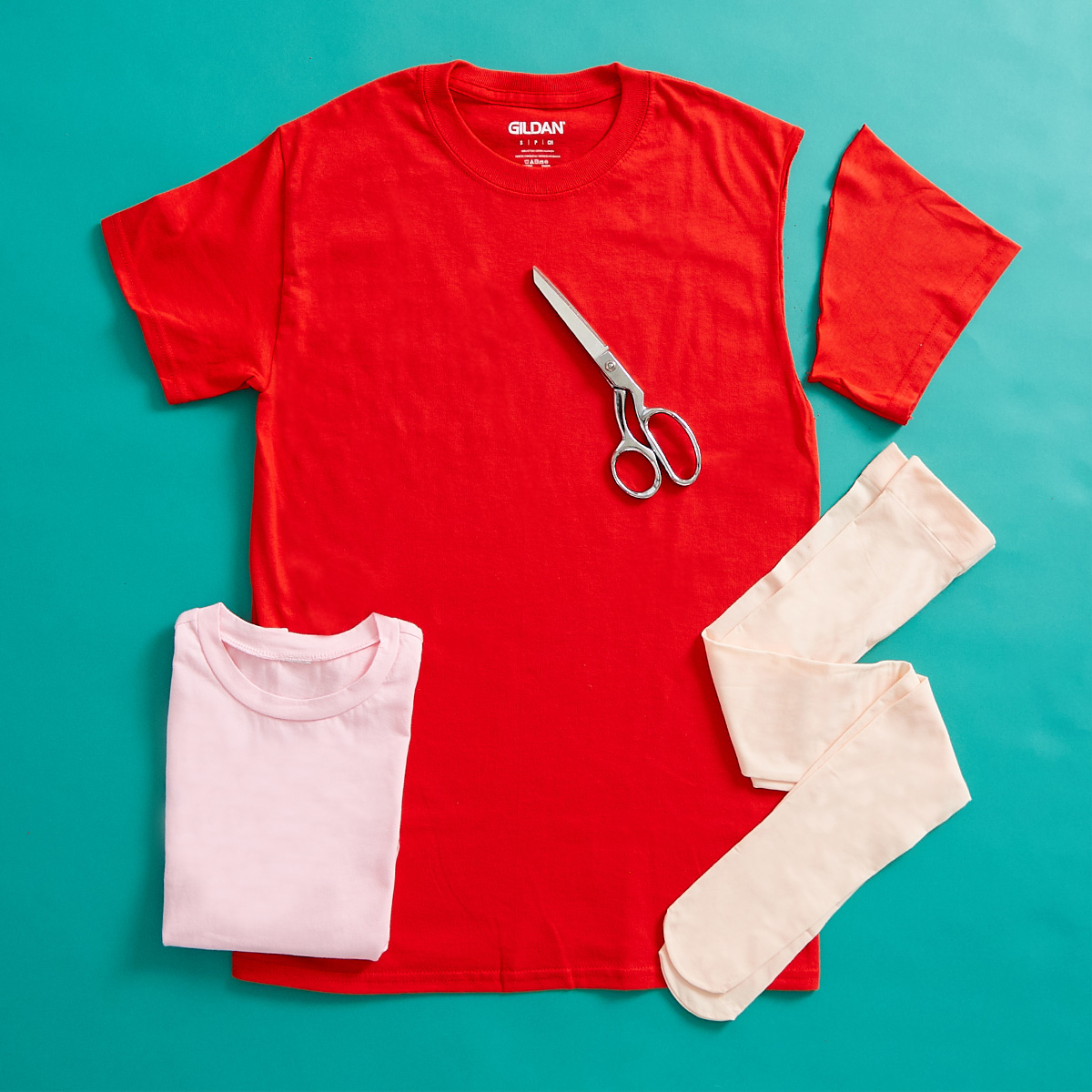 Step One: Peppa is practically unrecognizable without her red dress! Cut the sleeves off of your oversized red t-shirt to make her signature wardrobe staple.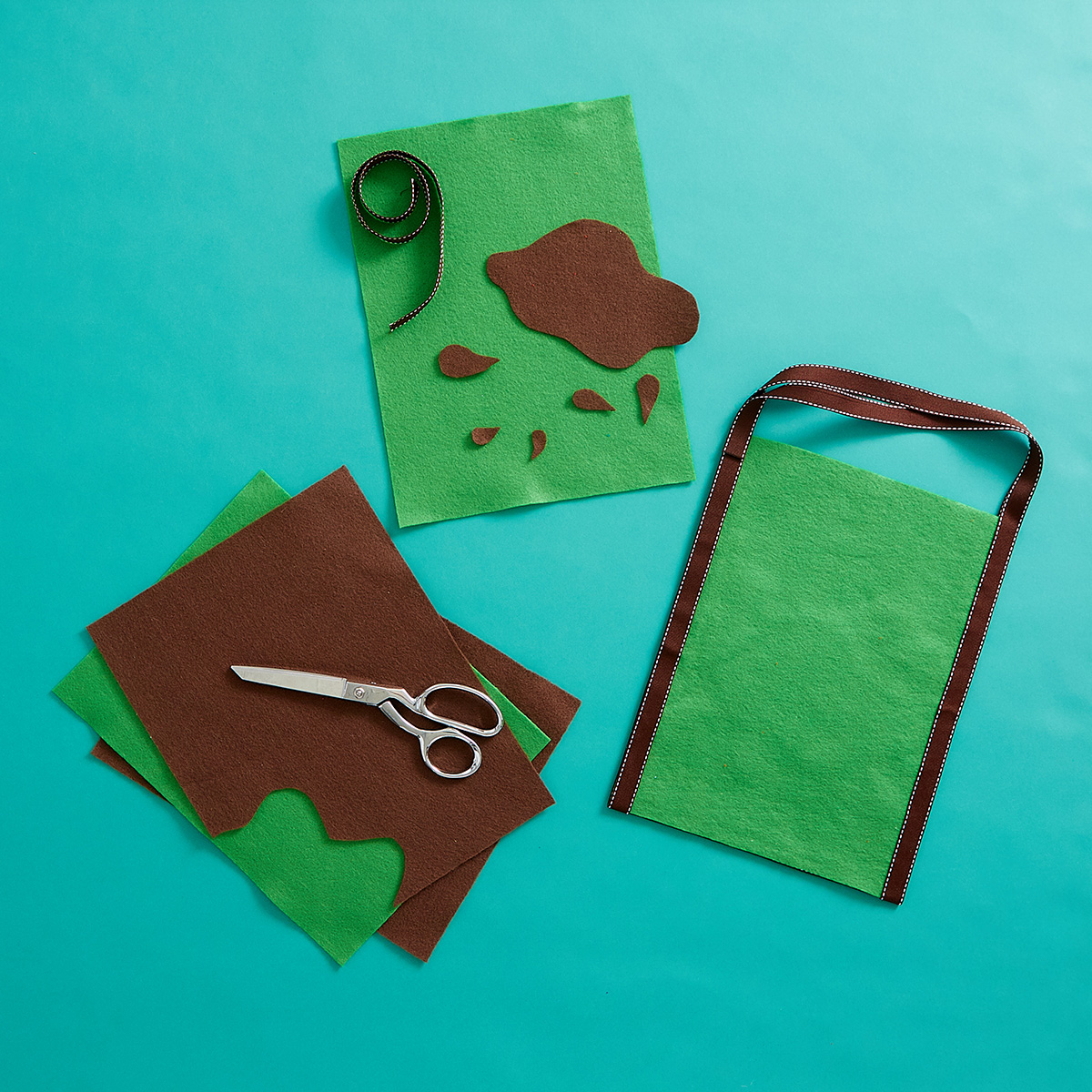 Step Two: Create your own treat sack by hot gluing two sheets of green felt together. Glue some brown ribbon around the edges to make the trim, leaving extra ribbon at the top to make your sack's built-in handles!
Step Three: Add some extra Peppa-themed flair to your bag by cutting some muddy puddle and droplet shapes out of a piece of brown felt, then hot-gluing them on. Set sack aside to dry.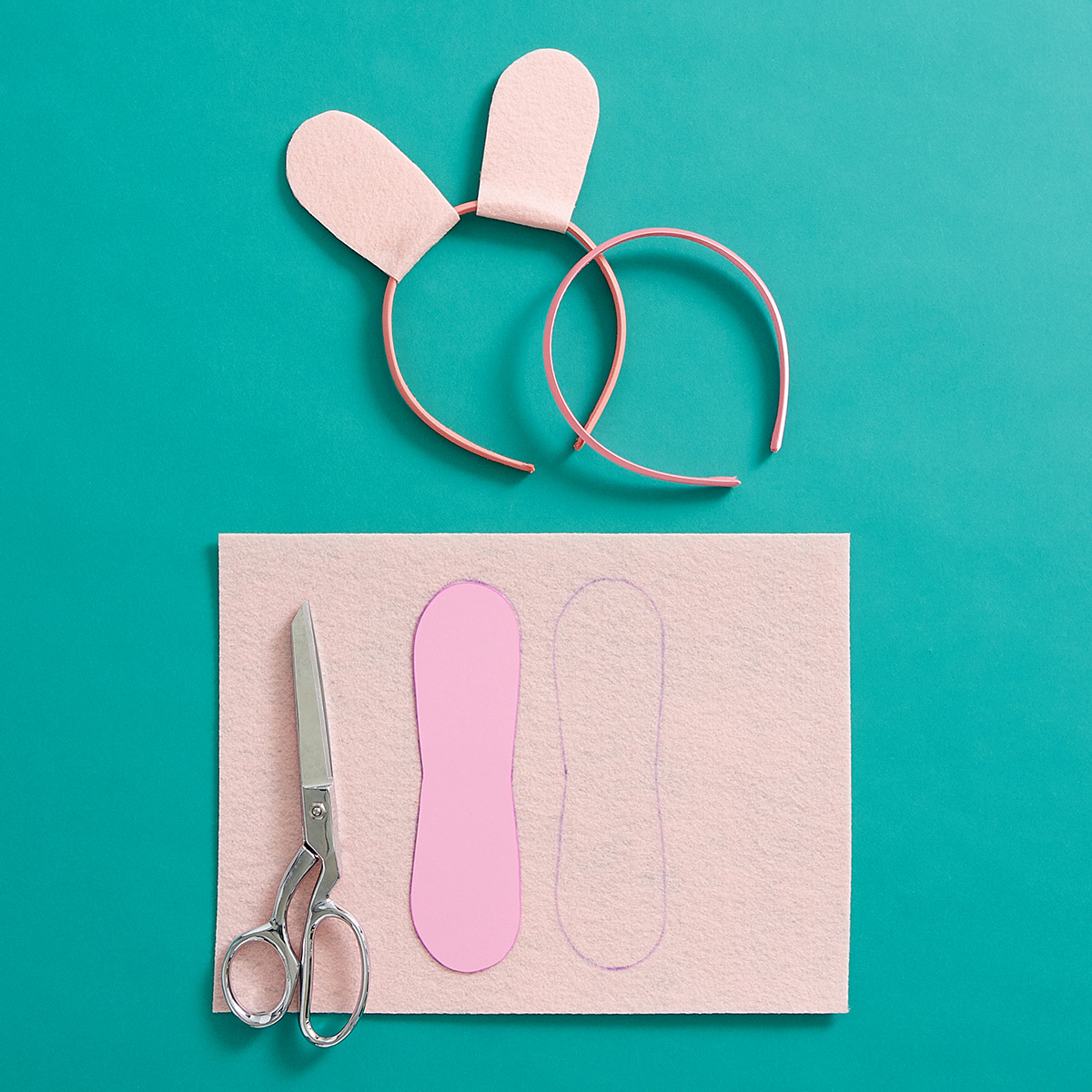 Step Four: Make a stencil out of construction paper, then trace it over some light pink felt and cut to make Peppa's ears (use photo for reference). After you cut them out, fold each ear around a pink hairband and hot glue the front and back of each ear together.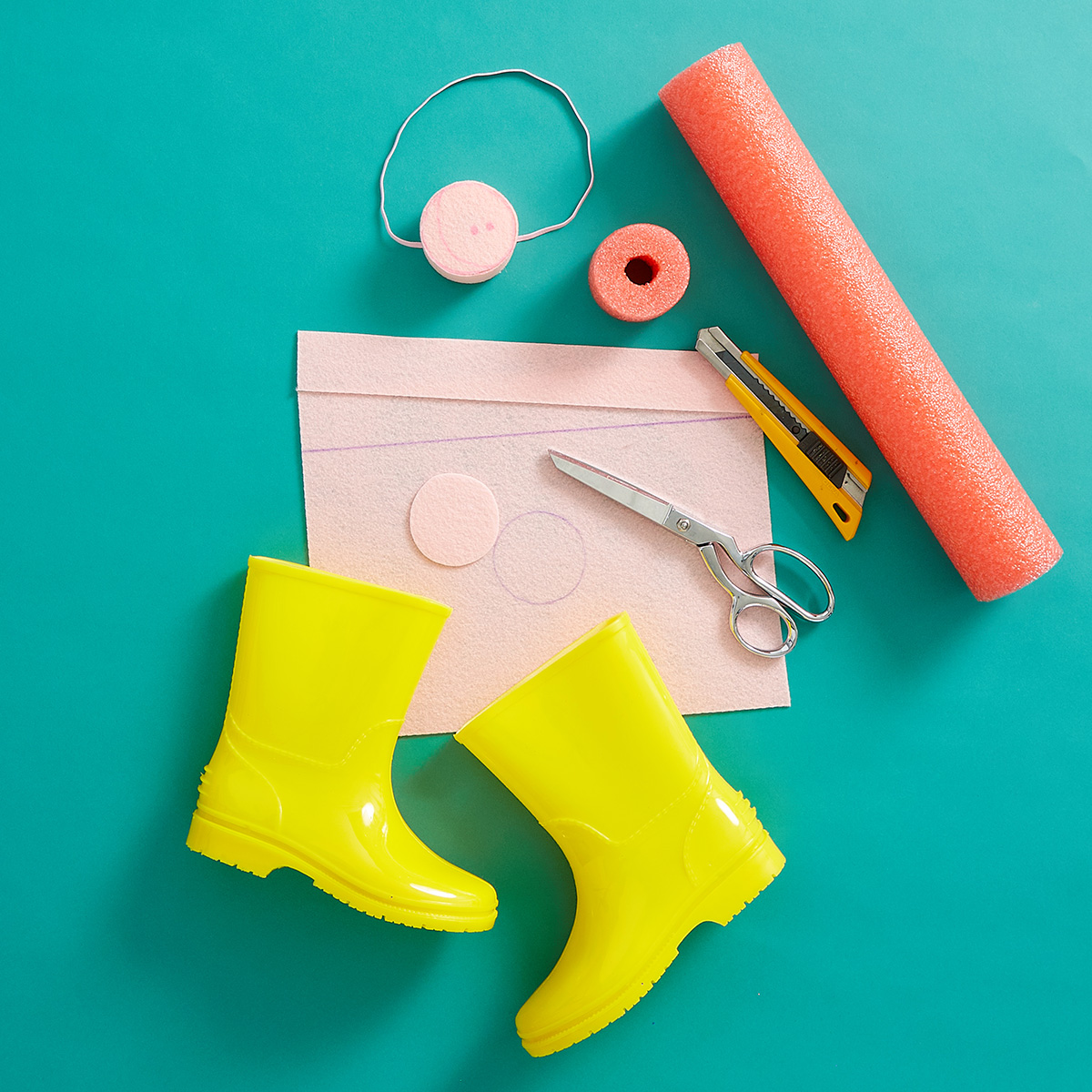 Step Five: Cut a small piece off of a light pink pool noodle to make Peppa's nose! Trace and cut the base of the noodle onto a piece of light pink felt. Then, cut a thick strip off of the light pink felt to wrap around the side of the nose. With a pink fabric marker, draw Peppa's snout details onto the front of the felt circle. Lastly, glue the felt pieces onto the pool noodle, and adhere to both sides to a piece of elastic string.
Step Six: Curl a pink pipe cleaner to make Peppa's tail and finish the look!
Now that you've gotten all of your costume pieces together, your child is ready for a Peppa-filled night of trick-or-treating and some muddy puddle jumping.