Whether you're planning a Loud House party, or simply want to spice up family pizza night, we've got a pizza bar idea for you!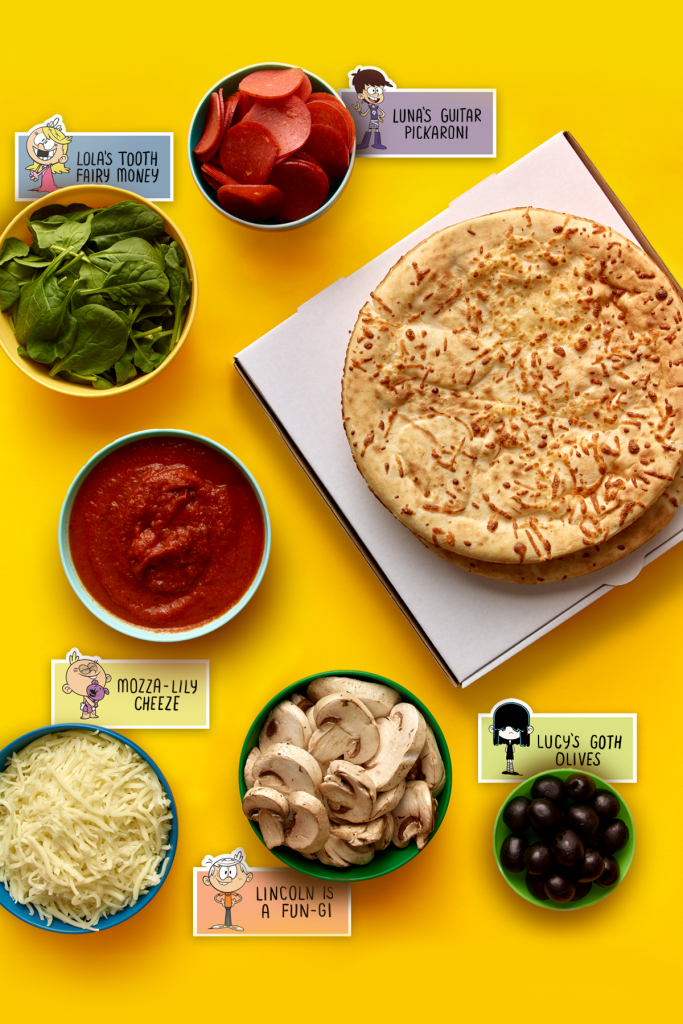 For your pizza bar, you'll need:
Personal-sized pizza crust
Tomato sauce
Shredded mozzarella cheese (aka mozza-lily cheese)
Bowls for toppings
Toppings are up to you, but we recommend:
Black Olives (Lucy's goth olives)
Mushrooms (Lincoln is a fun-gi)
Spinach leaves (Lola's tooth fairy money)
Pepperoni slices (Luna's guitar pick-a-roni– bonus if you cut these to be shaped like picks!)
Chicken (Luan's rubber chicken)
Banana peppers (Ba-Lana peppers)
Pineapples (emoji's from Lori)
Tomatoes (Leni's diced toma-totes)
Sliced onions (Lisa's radioactive worms)
Meatballs (Lynn's meatballs)
Mozzarella (mozza-Lily Cheese)
Pickles (Clyde's secret pickle stash)
But of course the pizza bar is only fun if the toppings have thematic name cards, right? Print the custom table tent cards below, and use our list of ingredient inspiration above to get silly!
Ready to get cookin'?
Preheat your oven to 350 degrees.
Divide the spinach, cheese, pepperoni, and cheese into different bowls. If you're using the name cards, be sure to set them up as well.
Have each person spread tomato sauce over their pizza crust.
Top with shredded cheese.
Add as many toppings as you'd like!
Have an adult place pizza crusts in the oven and cook for 15 minutes.
Take out pizza crusts and let cool.
Serve it up!
Looking to round out your Loud House-themed party? Check out these other essentials here.