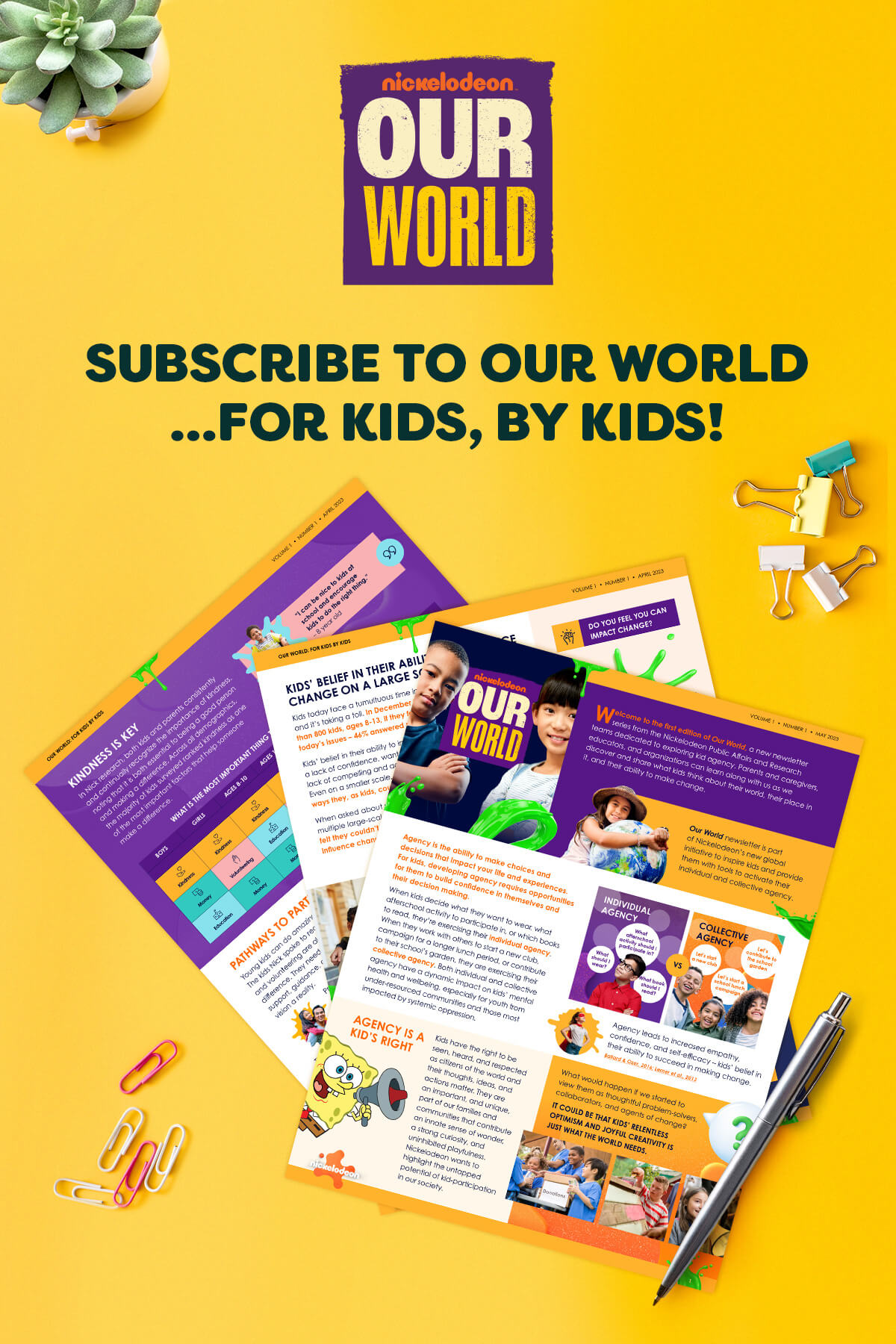 New Nickelodeon newsletter alert! The first edition of Our World…For Kids By Kids has officially arrived. Part of Nickelodeon's new global initiative, Our World, this newsletter series will be devoted to exploring kid agency, discovering what kids think about their world, their place in it, and their ability to make change. Ahead, check out our top five take-aways from the first edition. You can access the full newsletter by downloading it below – and, of course, by subscribing to Our World… For Kids By Kids!
OUR TOP FIVE TAKEAWAYS 
1.Why Supporting Kids' Agency Is Important
For kids, developing agency requires opportunities for them to build confidence in themselves and their decision making. Both individual and collective agency have a dynamic impact on kids' mental health and wellbeing, especially for youth from communities most impacted by systemic oppression.
2. Cultivating Individual Agency vs. Collective Agency
When kids decide what they want to wear, what class to take, or which books to read, they're exercising their individual agency. When they work with others to start a new club, campaign for a longer lunch period, or draft the class's summer reading list, they are exercising their collective agency.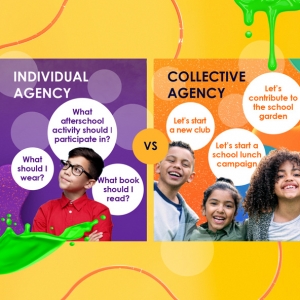 3. Today's Kids Are Feeling Helpless 
In December 2022, Nickelodeon asked more than 800 kids, ages 8-13, if they felt they had the power to change today's issues – 46% answered no. Kids' belief in their ability to influence change isn't necessarily due to a lack of confidence, want, or need, but may instead stem from a lack of compelling and accessible pathways to engage in change. Even on a smaller scale, 69% of kids said they didn't know about ways they, as kids, could get involved with their communities.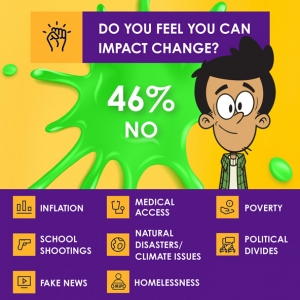 4. For Kids, It Starts with Small Actions
While many kids feel helpless when it comes to the big things, they do see an opportunity to influence change in familiar environments where they feel in control. For example, they feel confident in their ability to create change around bullying – which is also one of their top concerns.



5. Pathways to Participation 
The kids Nick spoke to recognized that money, education, and volunteering are also important factors in making a difference. They need adult collaborators who provide the support, guidance, and resources needed to make their vision a reality.
Follow Our World…For Kids By Kids, as Nick continues to share its research on kid agency. Visit Nickhelps.com to explore resources and activities that promote kid agency and reach out to publicaffairs@nick.com for more information on ways to get involved!