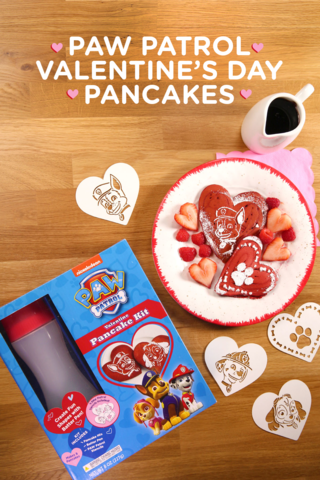 Have you ever scrolled past a fancy food art video and thought, "Who's got time for that!?" Well, the PAW Patrol Valentine's Pancake Kit comes with everything you need to make a simple, pup-tastic breakfast filled with love and topped with your kid's favorite characters!
What You'll Need:
PAW Patrol Valentine's Pancake Kit:

pancake mix
squeeze bottle
character stencils

Frying pan
Mixing bowl
Spatula
Powered sugar
How to Make:
Step One: Mix listed ingredients in a bowl.
Step Two: Pour pancake batter into the squeeze bottle.
Step Three: In a greased frying pan set to medium-high heat, squeeze batter into a heart shape. Brown on both sides.
Step Four:  Remove the pancake and let cool for about a minute.
Step Five: Place pup stencil on top of the pancake and lightly sprinkle powered sugar. Repeat the process until you finish the batter.
Serve with maple syrup and/or fresh fruit!
Watch more Nick Jr.! View the TV schedule here.