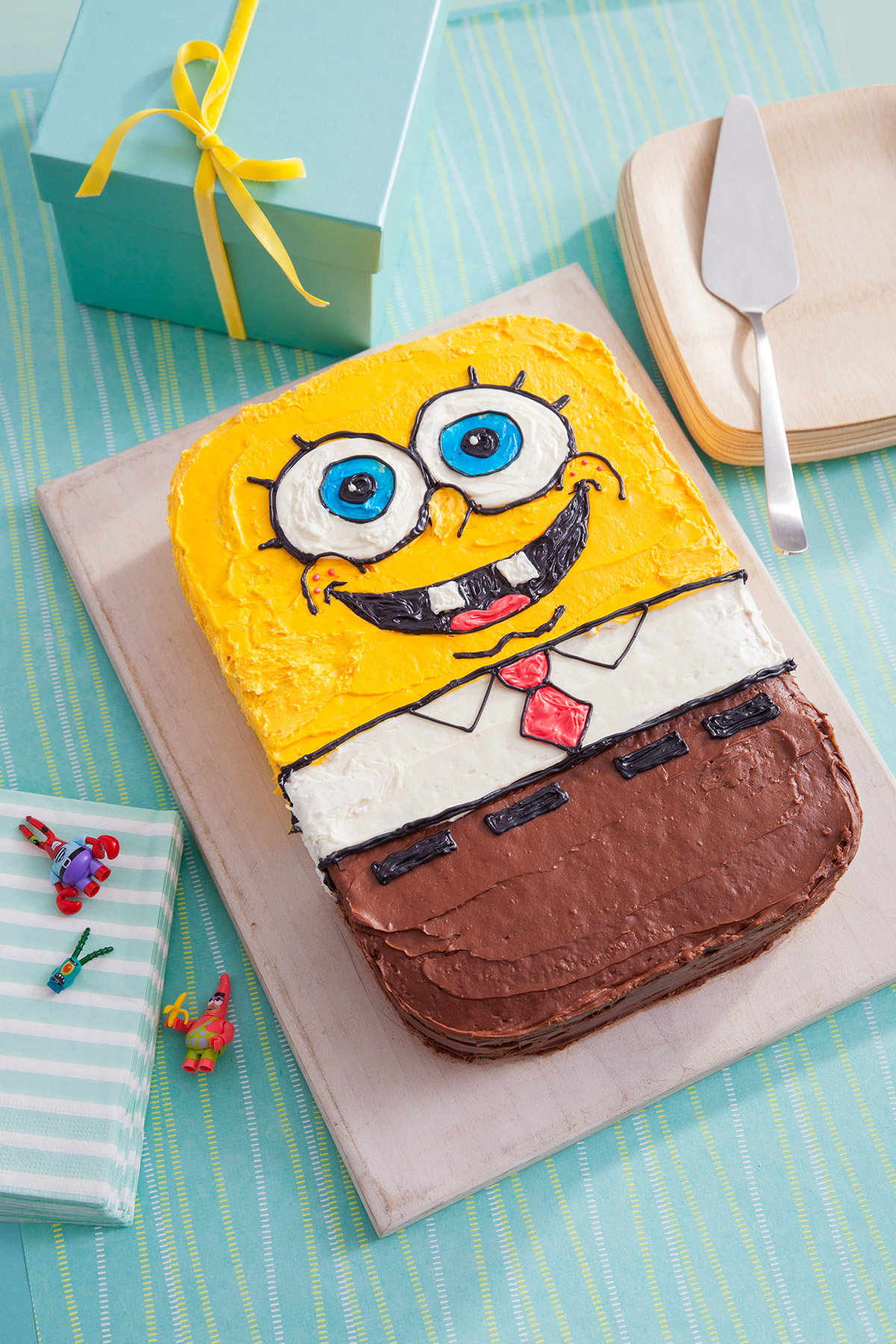 Instead of serving one of the many awesome store-bought SpongeBob birthday cakes out there, take a stab at this homemade version! The worst that could happen? An epic, laugh-worthy #KitchenFail that will taste delicious anyway. And isn't laughter what that lovable sponge is all about anyway?!
(Difficulty Level: Hard)
What You'll Need
2 Boxes yellow cake mix and corresponding ingredients such as eggs, vegetable oil, and water
2 Tubs of white vanilla frosting
1 Tub chocolate frosting
2 Baking pans, 3×9 inches
Food coloring in red, yellow, sky blue, black
Icing bags
Toothpick
Small round icing tips
Large round icing tips
Cake board or serving plate, 3×9 inches
Icing spatula
Cake leveler or long serrated knife
How to Make
Step One: Prepare cake batter and bake 2 pans of yellow cake according to box directions. Allow both to cool 10 minutes in pan before turning over onto a cooling rack. Let cakes cool completely before frosting.
Step Two: Once cool, use cake leveler or long serrated knife to cut the domes off of the two cakes.
Step Three:  Place a dollop of icing on the center of the cake board or serving plate. This will act as glue for the cake.
Step Four Place one of the cakes on the cake board and cover the top in frosting. Place the second cake on top of the first, taking care to match the edges.
Step Five: Using a toothpick, scratch a line across the "body" of the cake to mark Spongebob's white shirt, and then brown pants.
Step Six: Frost Spongebob's white shirt, extending it down over the sides.
Step Seven: Using the chocolate frosting, frost his brown pants, extending it down around the sides.
Step Eight: Mix yellow food coloring with white frosting to create a good amount of yellow frosting. Frost the remaining, top part of the cake, extending down around the sides.
Step Nine: Use a toothpick to mark where the details of his face, shirt, and pants will go. This will act as a guide while piping.
Step Ten: Using food coloring, mix at least a cup of black frosting, and a smaller amount of blue and red frosting. Load tips and frosting into piping bags and pipe details, referencing the photo and your toothpick sketch.
Jumping jellyfish! Your SpongeBob cake is a work of art!
To make your SpongeBob birthday party even more special, join the Nickelodeon Birthday Club and schedule a personalized phone call from SpongeBob himself (or one of 10 additional characters)! It's free and easy!