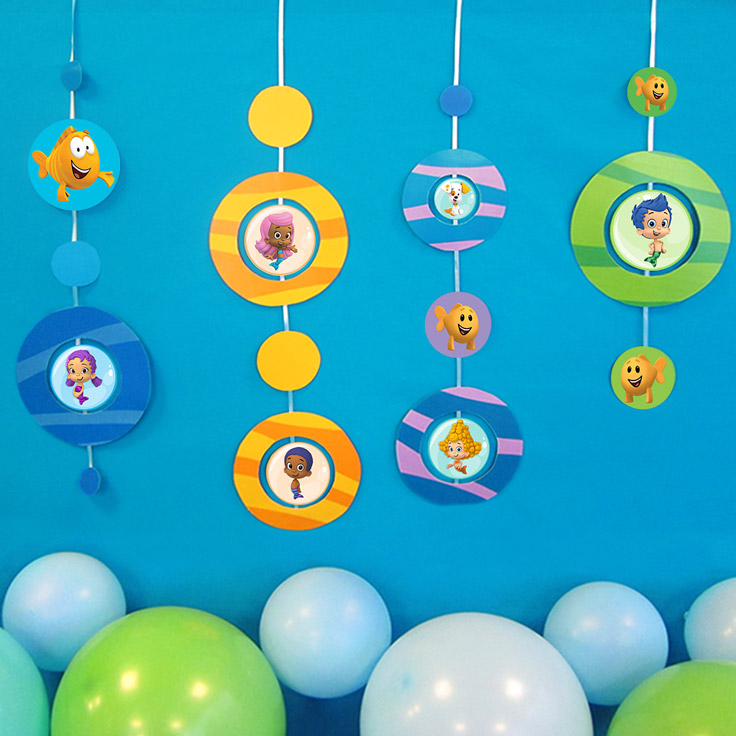 Looking for a decoration to add a little splash to the room? Supplies! The Bubble Guppies are here to hang around and help out. Just print, string and hang for a fin-tastic finish.
What You'll Need:
1. Bubble Guppies Hanging Decoration Templates
2. Card stock paper or heavy weight paper
3. Scissors
4. Glue stick or tape
5. String
Instructions:
Step 1: Print the Bubble Guppies Hanging Decoration Templates on card stock paper or print and affix to cardboard.
Step 2: Cut out all the pieces. Take one image and glue or tape string onto the back (do not cut string as you will need to attach more images to it. See photos for reference). Be sure to leave about 5 inches of string free for hanging. Once string is attached to the back, cover with corresponding image. This will leave with you a doublesided image. Continue attaching the other printables in this fashion.
Step 3: Once you create 3 stringed hanging decorations, allow craft to dry before hanging. Attach to chandeliers or ceilings.
View more Bubble Guppies crafts, printables, and recipes here!
Make your child's birthday even more fin-tastic by setting up a personalized phone call from Molly and Gil themselves (or one of 10 additional characters) when you join the Nickelodeon Birthday Club. It's free and easy!