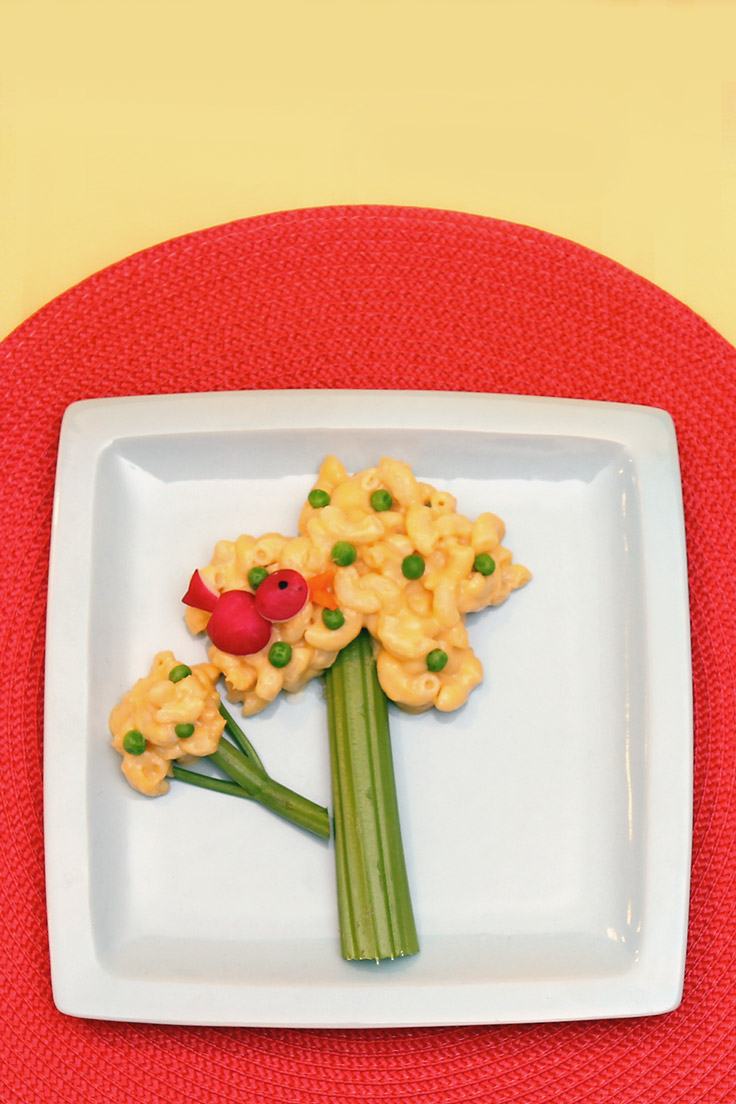 This Gupp-ified version of mac 'n cheese has that memorable gooey goodness, with sweet peas and carrots and crunchy celery and radishes to boot. Wowzers! Your little guppy will gobble it up before your eyes.
(Difficulty Level: Medium)
What You'll Need
2 tbsp butter
2 tbsp flour
1 1/2 c milk
2 c shredded yellow cheddar cheese (or favorite melting cheese)
Salt and freshly ground pepper, to taste
4 radishes
2 carrot slices
4 celery stalks
1/2 lb elbow macaroni
1/4 c frozen peas, thawed
How to Make
Step 1: Melt the butter in a medium saucepan over medium heat. Add the flour and stir until absorbed and begins to turn golden. Slowly add the milk, stirring constantly. Bring the mixture to a simmer and cook on low heat, about 10 minutes. Remove from heat, add the cheese and stir until melted. Season to taste with salt and pepper.
Step 2: Cut the radishes in half. Reserve four halves as the bird bodies. Cut a 3/4-inch circle from the remaining halves to make the bird heads. Cut four small triangles from the scraps for the bird tails. Use the black edible marker and add an eye on the small rounds. Cut the carrot slices into four small beaks. Cut the celery stalks into four 5-inch lengths. Use the thickest end to make the tree trunk. Trim four small pieces to make the branches. Cover celery pieces with a damp paper towel until ready to assemble.
Step 3: Bring a large pot of salted water to a boil. Add the macaroni. Stir and simmer until just tender according to package directions, about 6-10 minutes. Drain the macaroni and return to the pot. Stir in the cheese sauce and coat macaroni evenly. Cook frozen peas briefly in the microwave.
Step 4: Arrange the celery stalk on four lunch plates. Using the photo as a guide, spoon some of the macaroni and cheese on the top ends of the celery to look like the treetops. Sprinkle with some of the peas. Add the radish and carrot birds (see photo as the guide). Repeat above steps to make four trees.
View more Bubble Guppies crafts, printables, and recipes here!