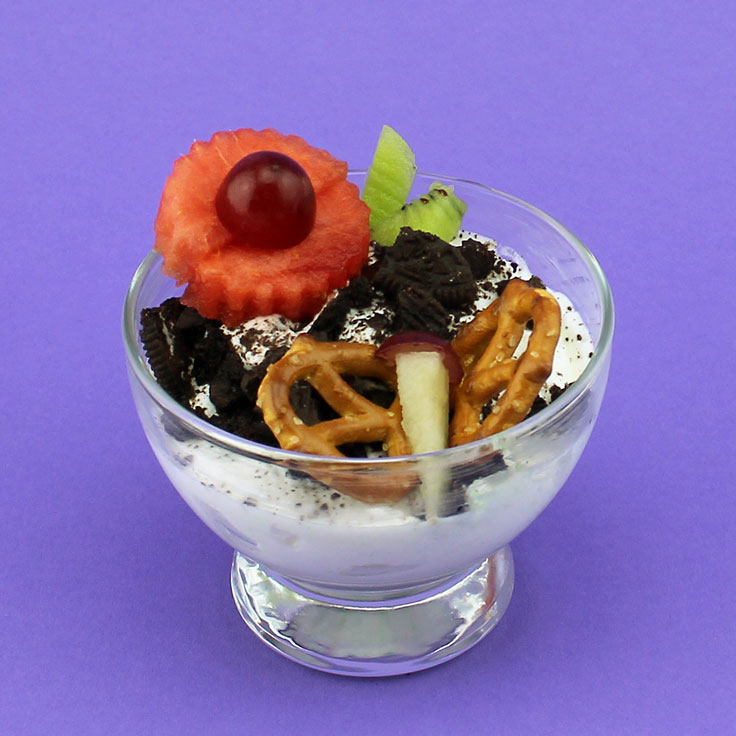 This sweet, smooth dessert is crowned with a berries-and-pretzel butterfly and fruity flowers. You can even get creative and craft some edible garden features of your own. Delicioso!
(Difficulty Level: Easy)
What You'll Need
1 box (3.4 oz.) instant vanilla pudding (substitute with pre-made pudding cups)
2 c cold milk
1/2 c ground chocolate sandwich cookies (Oreos)
Cantaloupe slices
Unsalted mini pretzels
Red grapes, cut in half
Raspberries and blueberries
Fresh mint (optional)
How to Make
Step 1: Adults can help kids prepare the pudding mix with the milk, according to package directions.
Step 2: Spoon the pudding into four bowls. Kids can sprinkle the top of each bowl of pudding with the ground chocolate cookies. Using a flower cookie cutter, help kids cut 1 1/2-inch flower shapes from the cantaloupe slices. Cut 1 1/2-inch triangles from the scraps.
Step 3: Arrange 2 mini pretzels like butterfly wings on top of the chocolate cookie crumbs. Add the melon triangle as the body and half a grape as the head. Add several melon flowers, raspberries, and blueberries on top of the cookie crumbs as well. Add a few mint leaves as the flower leaves.