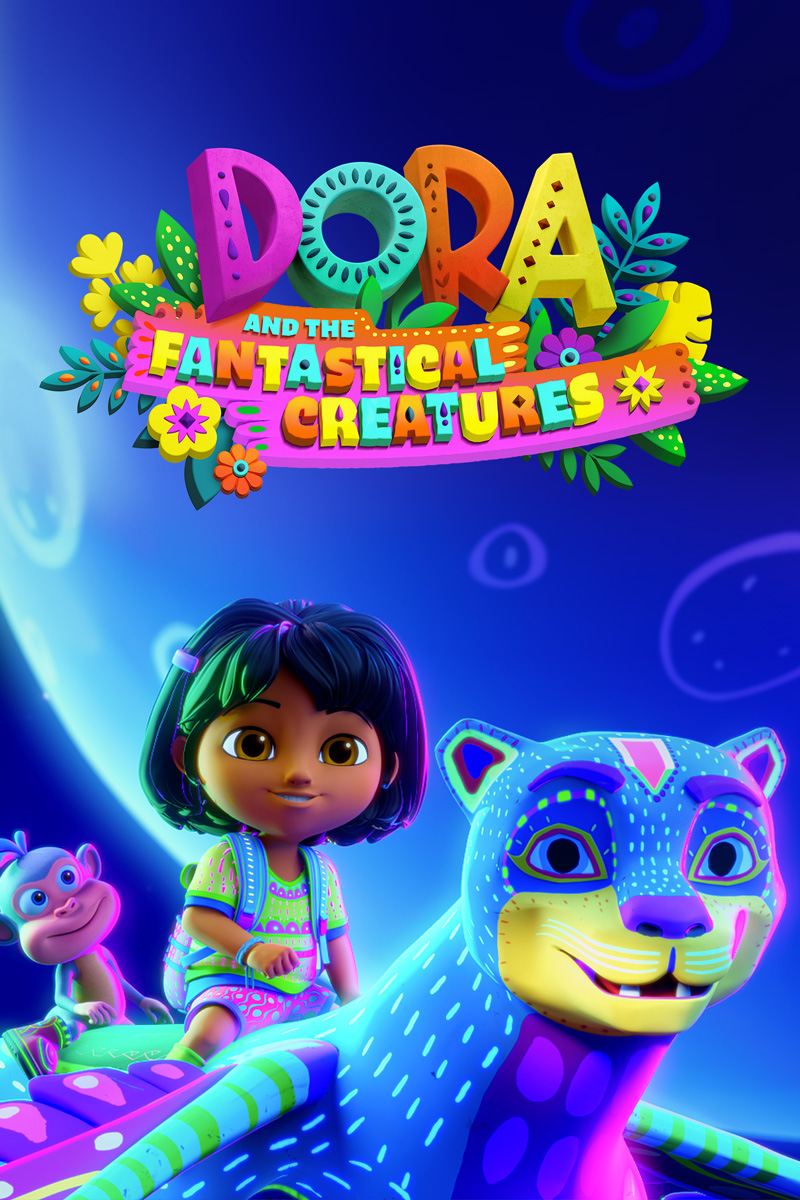 Psssst, explorers! Especially PARENTS of explorers! Dora, Boots and the rest of the gang are back, and now on the big screen with a new animated look and feel. Catch the all-new short-film, Dora and the Fantastical Creatures starting Friday, September 29th, at all theatrical showings of PAW Patrol: The Mighty Movie. 
Doo-de-doo-doo-don't miss Dora like you've never seen her before! Click here to get your family's tickets now.
WHAT CAN WE EXPECT FROM DORA'S BIG SCREEN DEBUT? 
Great question! In Dora and the Fantastical Creatures, Dora and Boots travel to the land of the alebrijes, aka the most magical and colorful creatures in the rainforest. There, they'll band together against Swiper to save their colorful new friends, and save the Copal Tree Celebration! Get a sneak peek of the short film now – watch the trailer right here. 
Dora is voiced by Diana Zermeño, Boots is voiced by Asher Spence, and the notorious fox, Swiper is voiced by Marc Weiner.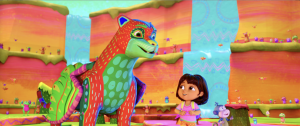 DORA'S GOT A NEW LOOK?! TELL ME MORE!
It's true! The adventure-loving Latina heroine returns with a brand-new CGI-animated look and feel. We're saying adios to the iconic, original animation style, and gearing up to welcome the next generation of Dora's fellow explorers.
DORA LOOKS GREAT – BUT WHAT ABOUT THE REST OF DORA'S FRIENDS?
No Bull, Squirrel, Fox, or Monkey left behind! All of your family's favorite characters have been updated – even Swiper managed to swipe himself a CGI-update. But don't worry – your family's favorite characters are still as cute as ever. Boots is still sporting his iconic red boots, Benny still has his neck-tie, and Swiper has his sneak-around mask.

CAN I WATCH THE "DORA AND THE FANTASTICAL CREATURES" SHORT AT HOME? 
For now, if you and your family want to see the new Dora and Boots in action, you'll have to make it to a showing of PAW Patrol: The Mighty Movie – which you should definitely do anyway. In the meantime, you can adventure with Dora the Explorer at home! Stream episodes of the original series anytime on Paramount+.
I KNOW SHE'S AN ICON, BUT I'M NOT FAMILIAR… WHO IS DORA AND WHAT IS SHE EXPLORING? 
If you and your family have never gone along on an adventure with Dora, Boots, Backpack, Map, and the rest of the crew, we HIGHLY and humbly recommend you do! 
The original Dora the Explorer series follows Dora, a girl who never shies away from a challenge or an adventure! Something that makes Dora extra-special? She loves to talk directly to her kid-audience and ask for help throughout her adventures! Plus, she loves to share Spanish words with her viewers, making learning and exploring one and the same! 
Whether it's telling Swiper to quit swiping or asking for directions, Dora makes watching TV interactive, engaging, and a whole lot of fun. Check out the original series on Nick Jr. right here.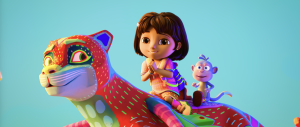 IS THIS THE LAST WE'LL SEE OF NEW DORA? 
NO WAY – keep your eyes peeled! After Dora and the Fantastical Creatures hits theaters, even MORE Dora clips and shorts will be available across Nickelodeon platforms, Paramount+ and Noggin.   
BTW – a new DORA series in the updated CGI-animation style is coming, set to premiere in 2024. Make sure you're subscribed to the Nickelodeon Parents newsletter – we'll let you know when the new series arrives! 
Looking for more Dora? Check out these Dora the Explorer coloring pages, or plan an a-DORA-ble birthday party!