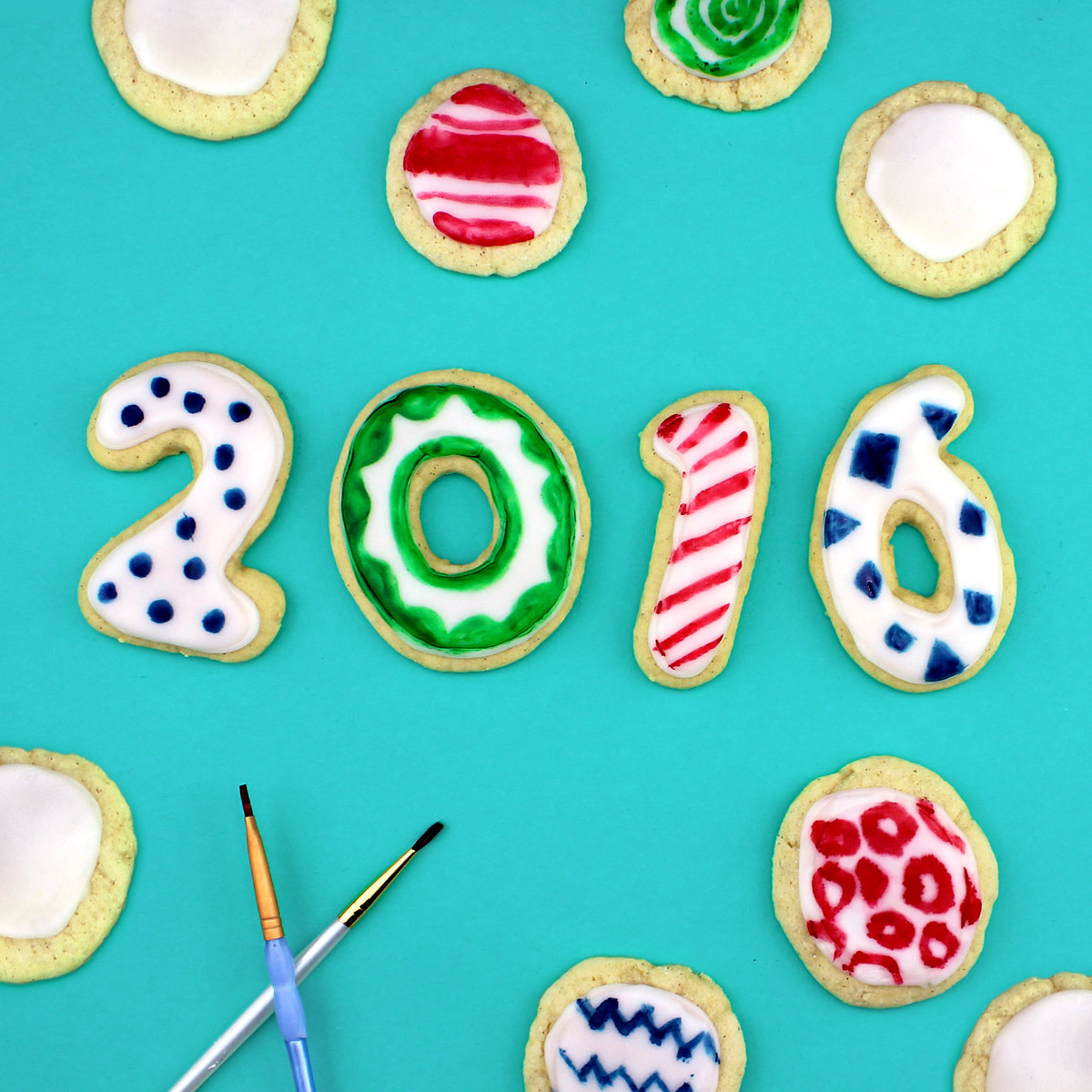 Bake and glaze these cookies ahead of time so you can decorate them with your kids on New Year's Eve! Don't forget to teach them how to put together the cookies to spell out "2016." Happy New Year!
(Difficulty Level: Medium)
What You'll Need
For the Cookies:
Your favorite sugar cookie recipe or pre-made dough of your choice
2-, 0-, 1-, and 6-shaped cookie cutters
Paint brushes
For the Glaze:
1 cup Confectioner's (powdered) sugar
1/8 Cup water
1/4 tsp. Vanilla or almond extract
For the Decorative Icing:
Basic food coloring
Clean, unused paintbrushes
Water
How to Make
Step One: Roll out your favorite sugar cookie dough. Using cookie cutters, cut out several number-shaped cookies.
Step Two: Bake as directed in your favorite magazine/on your grandmother's recipe card/on the box. Allow cookies to cool completely before applying the glaze.
Step Three: Make the glaze: combine the confectioner's (powdered) sugar, water, and vanilla extract. Whisk together well, until glaze is smooth.
Step Four: Glaze the cooled cookies, allowing to harden completely, for at least 3 hours.
Step Five: Decorate: Once the glaze has hardened, gather your kids and have them help you decorate the cookies. Squeeze a few drops of food coloring into small cups or dishes. Dip the paintbrushes into the food coloring, and have your child paint the cookies gently, as they would with watercolors. If you're an expert food artist, you can try your hand with royal icing or even tubes of pre-made frosting, but that's all too complicated for us! Kids can experiment with different shapes, patterns, numbers and letters. Enjoy before the clock strikes 12!