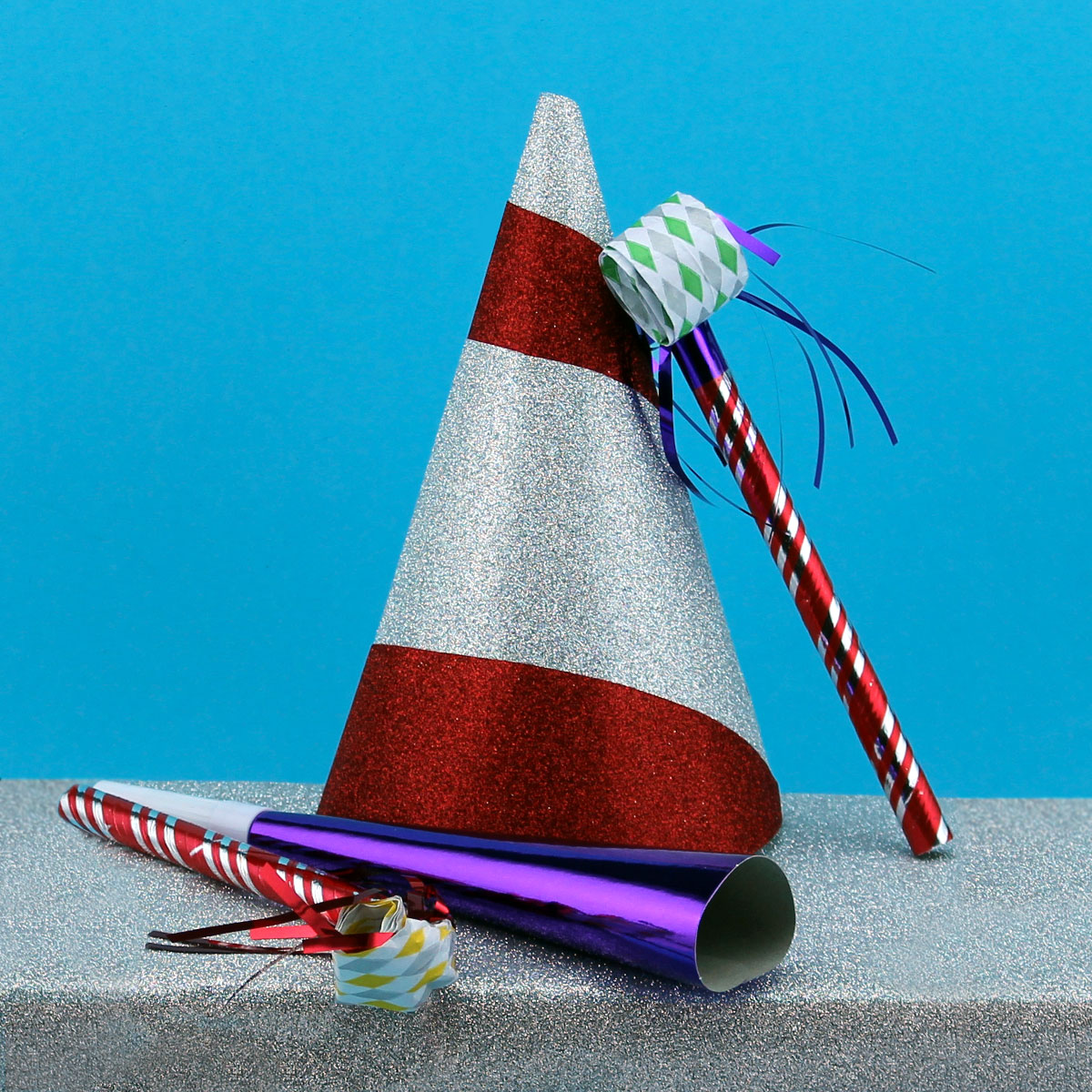 Don't lose it–reuse it! Let Rocky the Recycling Pup inspire you to turn your leftover holiday gift wrapping into clever crafts for the New Year! Make your own New Year's Eve party hat with construction paper, and decorate it with colorful wrapping paper.
(Difficulty Level: Easy)
What You'll Need
9″ x 12″ Construction paper
Compass
Scissors
Craft glue
Leftover wrapping paper or old magazine pages
Decoupage glue (optional)
Paintbrush (optional)
Pushpin
Elastic cord
*Note: Decoupage glue makes a sturdier hat with a shiny surface, but regular glue will do for this craft.
How to Make
Before you begin: Placing the hat on a cylinder-shaped object, such as a pencil holder or a tall glass jar, will help stabilize the hat during decoupage.
Step One: On one sheet of 9″ x 12″ construction paper, draw a 9-inch quarter circle with a compass (or freehand). Cut out the quarter circle.
 Step Two: Fold in a narrow tab about 1/4 inch wide along one of the straight edges. Then fold the quarter-circle shape in half, keeping the tab folded. Make sure the straight edges are aligned. Trim where necessary.
Step Three: Apply glue to the tab and press the two halves together on the edge. Once dry, pop up the "hat" and it's ready for decoration!

Step Four: Cut your wrapping paper into stripes in various widths and lengths. Paste them onto the outside of the hat with decoupage glue or regular craft glue till every inch is covered with graphic.
Step Five: If you have used decoupage glue, apply another layer to the finished hat. Let dry.

Step Six: Use a pushpin to poke a hole on either side of the hat. Cut a piece of elastic cord, thread it through one hole from the hat's outside, and knot on the inside. Do the same on the other side.
Step Seven (optional): To create a "tassel," fold a stripe of wrapping paper in half width-wise, glue together the bottom of the fold, and cut long fringe from the open end. Apply glue to the bottom and wrap it around the top of the hat. Once dry, arrange the fringe and rub them in your palm to create a "messy" look.
Find more fun and funky New Year's ideas here and host the ultimate kid-friendly New Year's bash!