To a parent, Valentine's Day means another class party not long after you've finished pulling pieces of candy cane out ofyour kid's backpack. After you settle the debate between homemade and store-bought heart cupcakes, you and your Shimmer and Shine fan can create this simple yet dazzling Valentine's Day card box.
Difficulty Level: Easy
What You'll Need
Shoe box
Wrapping paper, cardstock, OR tissue paper*
1 yd. gold ribbon or trim
1 yd. pearl ribbon or trim
Adhesive gems
Scissors
Glue OR double-sided tape
Optional: Puffy paint for an embossed effect
Recommended Colors: lavendar, seafoam green, magenta, and blue
How to Make
Step One: Cut a rectangular hole in the top of your box, at least 1″x 4.5″ inches to accommodate sweet treats or cards.
Step Two: Cover the box with colored paper to match your child's genie of choice:
For Shimmer: magenta on top and lavender on the bottom
For Shine: blue on top and seafoam green on the bottom
Step Three: Kids can decorate the top of the box with pearls for Shimmer or gold trim for Shine. If you have time, assist your child with puffy paint to create embellishing details on the bottom half of the box.
Step Four: Get sparkly with gems! Be sure to lay out the gems before applying with adhesive to get desired result. Extra sparkles are strongly encouraged.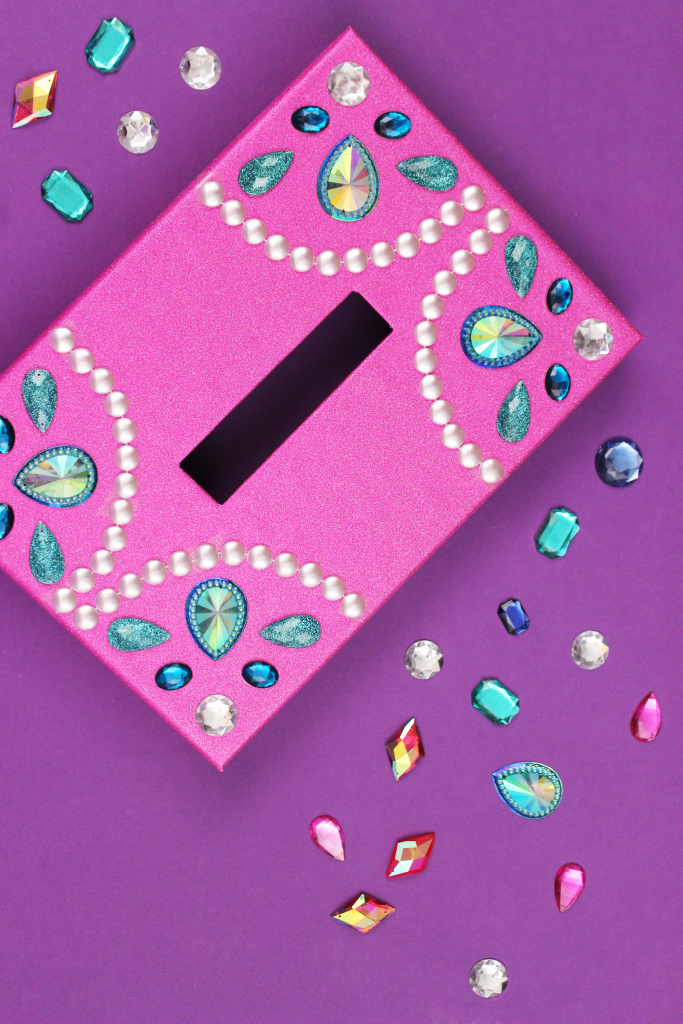 Before you can say Boom Zarahmay, your child will have a dazzling card box that will make Valentine's Day shimmer and shine!