Ah, the holidays. Full of last minute trips to the mall, ginger bread disasters, and rummaging through your closet for the perfect "ugly sweater." To be the coolest dude at the party, take a crack at this TMNT sweater with detachable pizza slices that will make any Turtle's fan feel fuzzy on the inside… and outside!
What You'll Need
Felt (Beige, Red, Yellow, Orange, Blue, Green, White, and Black)
Loop Hook Fabric
Fabric Pant
Velcro
Bells
Pom Poms
Needle & Thread
Hot Glue Gun
Scissor
Sponge Brush
Letter Stencils
How to Make:
Step One: Cut felt as follows:
2 large circles, pizza crust (should be the size of the front of your sweater)
1 large white circle, target (same size as crust)
1 large red splat (tomato sauce)
1 yellow circle, cheese (slightly smaller than your red splat)
8 green circles, turtle heads
4 rectangles, turtle masks (red, purple, blue, orange)
8 small, white circles, turtles' eyes
8 small black circles, turtles' pupils
2 white shapes, turtles' teeth
Step Two: Cut Brown circles, red splat, and yellow circle into 4 quarters (like a pizza, dude).
Step Three: Stuff cotton on the outer edges of the pizza, then sew crust of pizza together.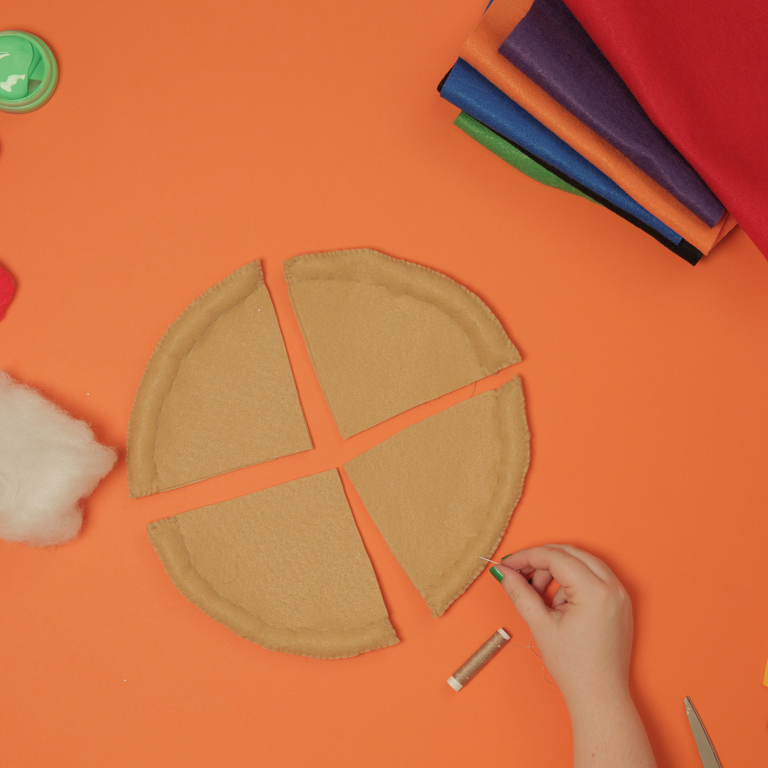 Step Four: Glue red felt layer onto the crust, then glue yellow quarters onto the red felt.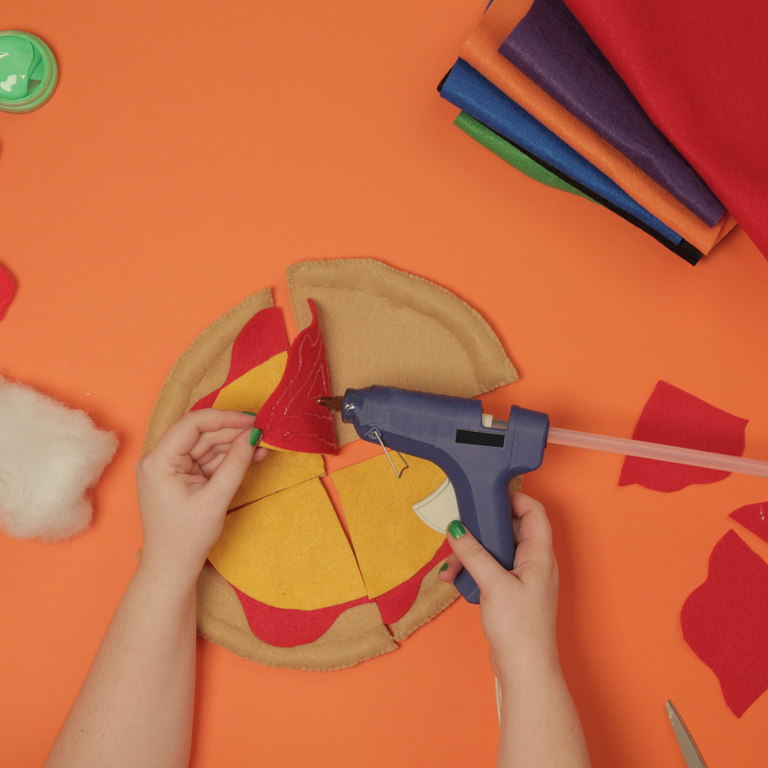 Step Five: Add small orange rectangles and small red circles as needed to the pizza.
Step Six: Construct Turtle heads:
Sandwich cotton between two green circles, stuff, and sew to create (4) 3D Turtle heads.
Glue eye masks, eyes, and mouth to each of the Turtle's head.
Step Seven: Glue Turtle heads onto each of the pizza slices.
Step Eight: Glue plastic end of Velcro to back of pizza slices.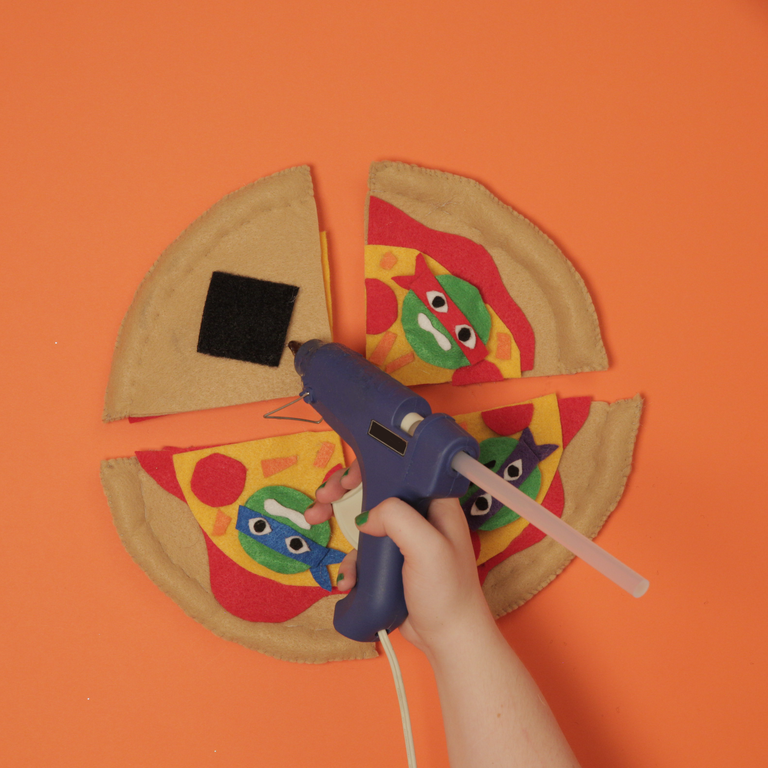 Step Nine: Paint a target on the large white felt circle with fabric paint, let it dry.
Step Ten: Use letter stencils to paint "Cowabunga!" on the target and let it dry.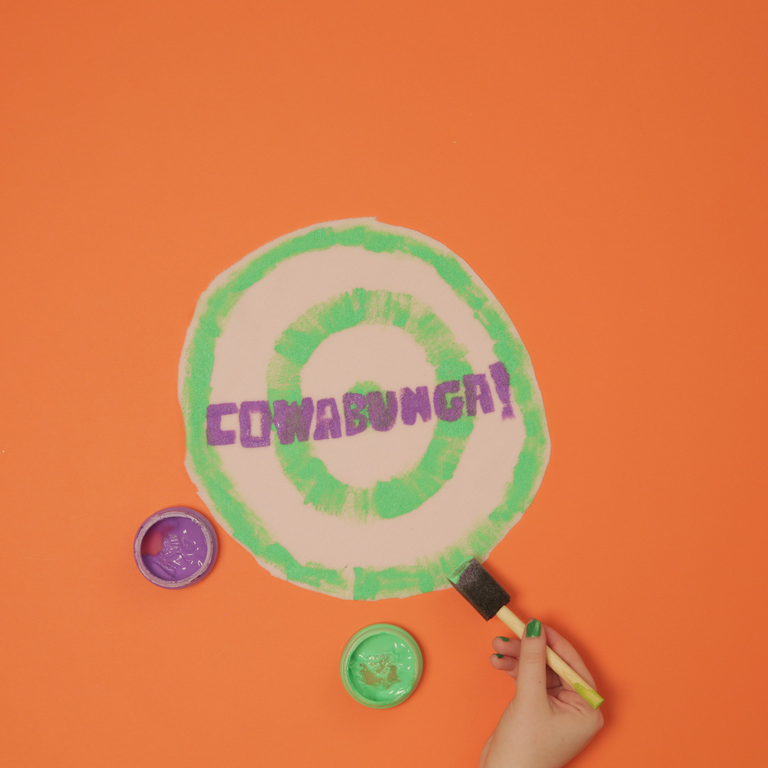 Step Eleven: Glue target to sweater.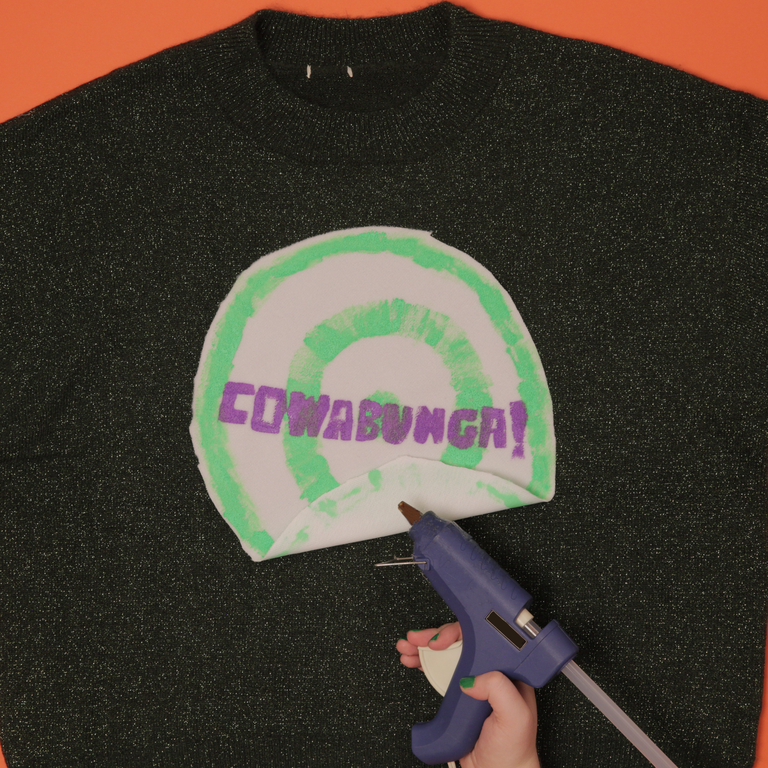 Step Twelve: Customize your mutant masterpiece with bells, pompoms, and ninja stars.
Have your friends test their ninja skills as they throw pizza slices onto your sweater. Whether with family, coworkers, or just hangin' in the sewers you're bound to be the life of the party!
Watch more Nickelodeon! View the TV schedule here.