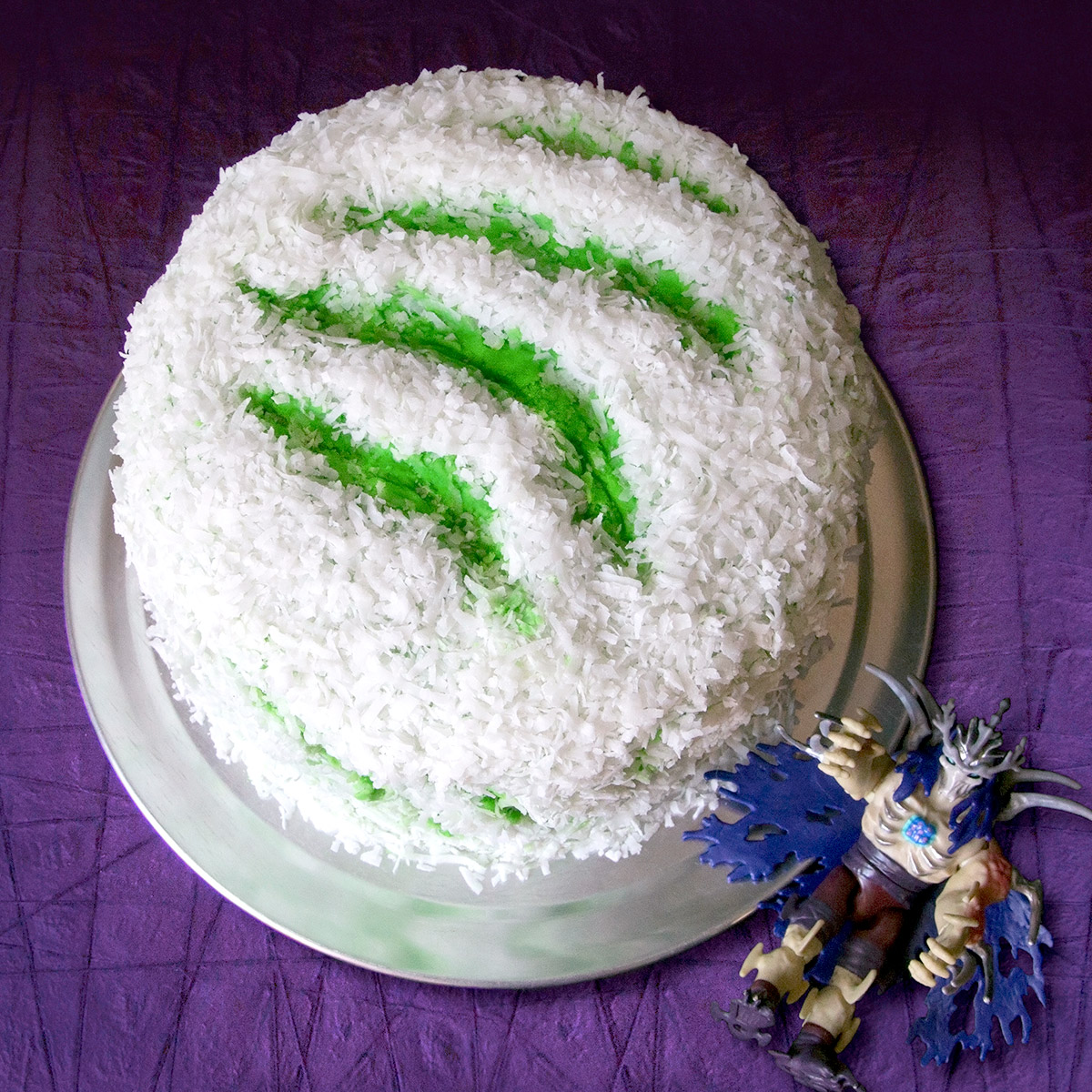 He's big.
He's bad.
He's the Turtles' arch nemesis, Shredder!
The Ninja Turtles' ferocious foe has mutated himself into the mega monster, Super Shredder. He's determined to take down the Heroes in a Half Shell, and he's also the inspiration for this mean cake. Flex your super baking skills, channel your inner-Shredder, and mutate a few ingredients into a Super-Shredded Snow Cake!
What You'll Need (Makes 2 8″x3″ cakes)
For the Cake
4 Sticks plus 4 tablespoons salted organic butter, room temperature
2 Cups plus 6 tablespoons stevia-based natural sweetener
6 Extra large eggs, room temperature
1 Vanilla bean, halved crosswise, split lengthwise (substitute 2 teaspoons pure vanilla extract)
6 Tablespoons coconut oil
3 Cups all purpose flour
1 Cup coconut flour
2 Tablespoons baking powder
1 Cup coconut or whole milk
1 (14 ounce) Bag coconut flakes, unsweetened
For the Mutagen Frosting 
4 Sticks (16 ounces) salted organic butter, room temp
4 Teaspoons pure vanilla extract
11 Cups powdered sugar
2-4 Tablespoons milk (whole or coconut)
4 Drops green food coloring (gel or paste)
How to Make
Step One: Preheat oven to 350° F. Grease and flour an 8×3 inch round cake pan. Line the bottom of the pan with a round of parchment paper.
Step Two: Beat the butter, sugar and eggs on high speed in a stand mixer with the whisk or paddle attachment for about 2 minutes, until light and fluffy.
Step Three: Add the vanilla extract (or seeds) into the mixer bowl along with the oil and combine on low speed.
Step Four: Whisk together the flour and baking powder in a separate bowl, then add to the creamed mixture one cup at a time, beating on high speed until thoroughly combined (about 30 seconds to a minute).
Step Five: Scoop batter into the cake pans and smooth the top with a spatula.
Step Six: Bake for 55-60 minutes until the center of the cakes come clean with a toothpick. (Check after 45 minutes and cover with foil if cakes starts to get too brown).
Step Seven: Let the cake cool in the pan for about 15 minutes, then run a metal spatula around edge of pan and invert cakes onto a wire rack to cool completely for an hour before frosting and serving.
Make The Frosting (Makes 8 cups)
Step One: Beat the butter on high in a stand mixer with the whisk or paddle attachment for 5 minutes until butter is lightened in color and whipped thoroughly.
Step Two: Add the vanilla and beat to incorporate. Add 1 cup of sugar and mix on low speed to combine, then beat on high speed for 2 minutes.
Step Three: Repeat this process by adding 1 cup of sugar at a time until all sugar has been added.
Step Four: Add milk a dash at a time if mixture becomes too thick or dry. Scrape sides of bowl to make sure all ingredients are mixed thoroughly and no sugar is visible.
Step Five: Add the green food coloring to the frosting
Decorate The Cake (Serves 12)
Step One: Spread some of the green cake frosting between the two cake layers.
Step Two: Frost the top and sides of the cake with the remaining frosting.
Step Three: Press the coconut flakes into the sides and sprinkle over the top to coat the cake.
Step Four: Make the slash marks using a butter knife and cut the first slash shape into the coconut. Cut just deep enough to reveal the green icing beneath. Repeat this step for additional slashes.
Now, be the ultimate menace and eat your yummy mutation!
Find Super Shredder and all your favorite TMNT products at Target and Target.com