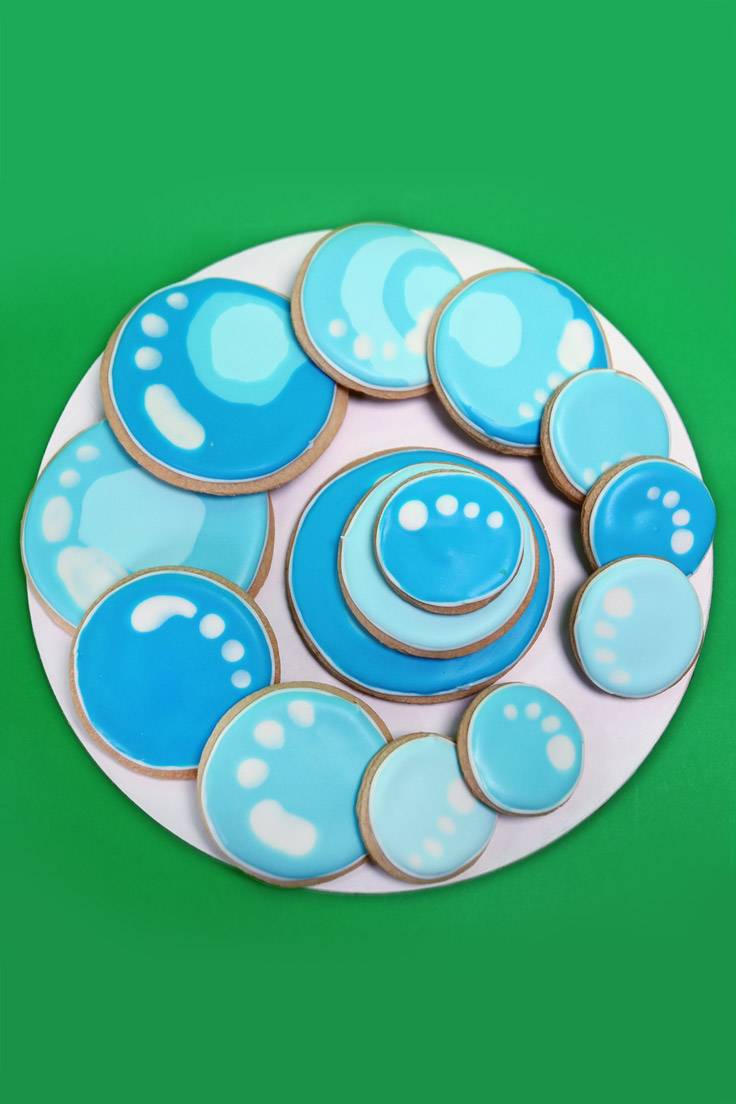 What time is it? It's time for a post-lunch treat! Your little guppies will swim right up to the cookie jar for these bright blue bubble cookies!
(Difficulty Level: Medium)
What You'll Need
For the Cookie
1 roll (16.5 oz.) refrigerated sugar cookie dough
2/3 c all-purpose flour 

For the Royal Frosting
1 box (16 oz.) confectioners' sugar
3 tbsp powdered egg whites
5 to 6 tbsp water
Neon blue food coloring
How to Make
For the Cookie
Step One: Preheat the oven to 350°F. Line several cookie sheets with parchment paper and set aside.
Step Two: Knead the cookie dough with the flour on a work surface until smooth. Roll out part of the dough on a lightly floured surface until 1/4-inch thick. Using a variety of round cookie cutters or tops of glasses, cut out as many circles as possible, ranging from 3 inches to 1 1/2 inches. Transfer the cut-outs to the prepared cookie sheets about 1 inch apart. Repeat with the remaining dough and scraps.
Step Three: Bake the cookies until lightly golden, about 10 to 12 minutes. Transfer to a wire rack and cool completely.
Step Four: Spoon 1/3 cup of the royal frosting into a plastic resealable bag. Divide the remaining royal frosting evenly between four small bowls. Tint three of the bowls different shades of neon blue with the food coloring. Add a few drops of water to each bowl, including the white, to thin the frosting slightly. Spoon each color into a plastic resealable bag.
Step Five: When the cookies are cool, snip a very small corner from the bag with the un-thinned white royal frosting. Pipe an outline of royal frosting on each cookie. Snip a small corner from the bags with the thinned frosting. Pipe frosting inside the outline and spread to the edge. Pipe several rings of colors or dots of white inside the outline to make the bubbles. Let cookies dry at least 2 hours before stacking.
For the Royal Frosting
Step One: Combine the confectioners' sugar, egg white powder and 5 tablespoons of the water in a large bowl. Beat with an electric mixer on slow until moistened. Add the additional tablespoon of water if mixture feels too thick. Beat with mixer on medium until smooth and thick, about 1 minute.

View more Bubble Guppies crafts, printables, and recipes here!