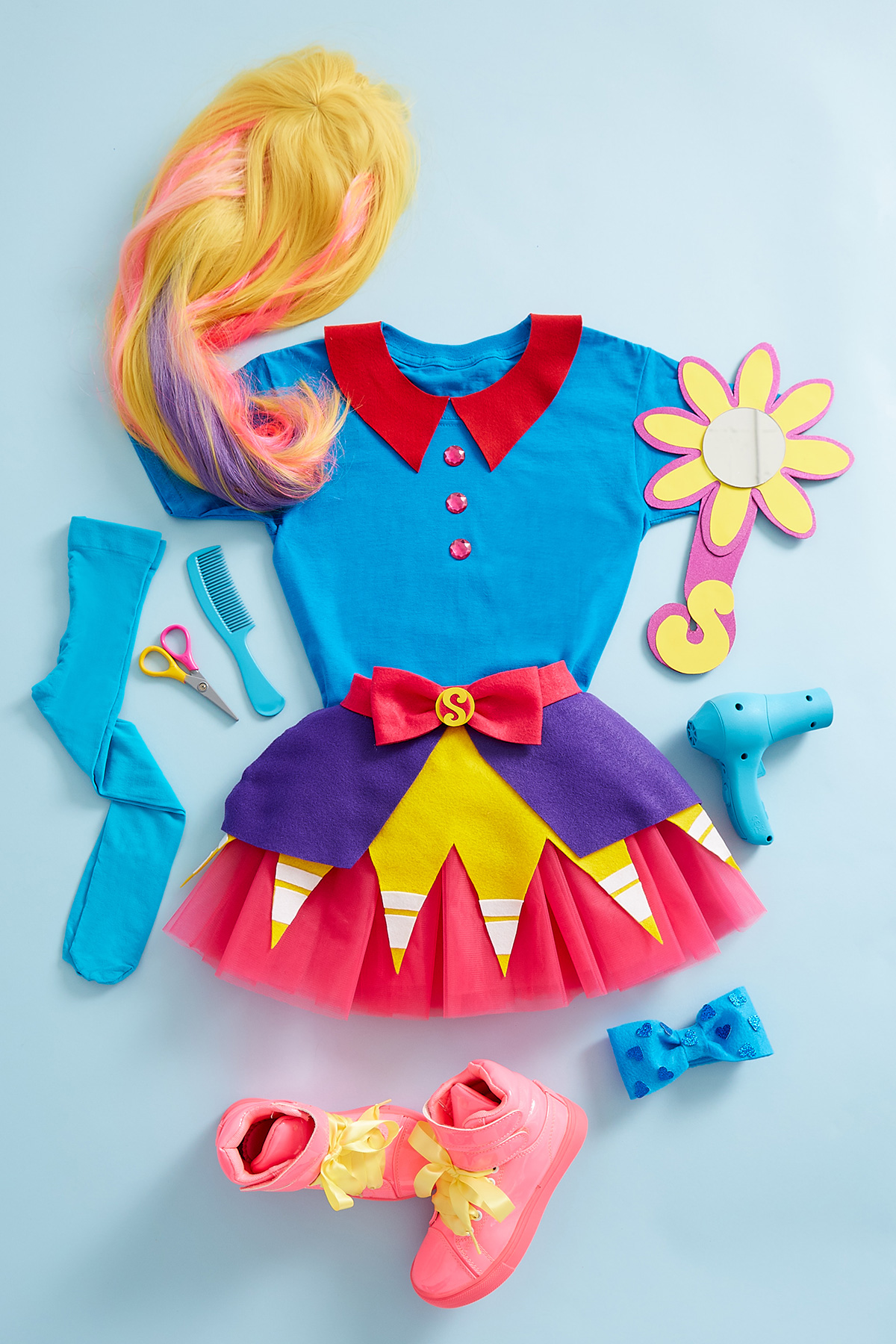 This DIY Sunny Day costume is one for your child's Style Files! Grab the supplies below to make their Halloween a little more sunny.
What You'll Need
Blonde wig
Pink tutu
Blue tights
Blue kids t-shirt
Pink sneakers
Play hair dryer, comb, and scissors
Pink and purple hair chalks
Cardstock, yellow and pink
Felt sheets, purple, blue, red, yellow, white, and pink
Blue glittery sticker paper
Heart-shaped hole puncher
Elastic string
Small round craft mirror
Yellow ribbon
Pink craft gems
Hot glue gun and sticks
Scissors
How to Make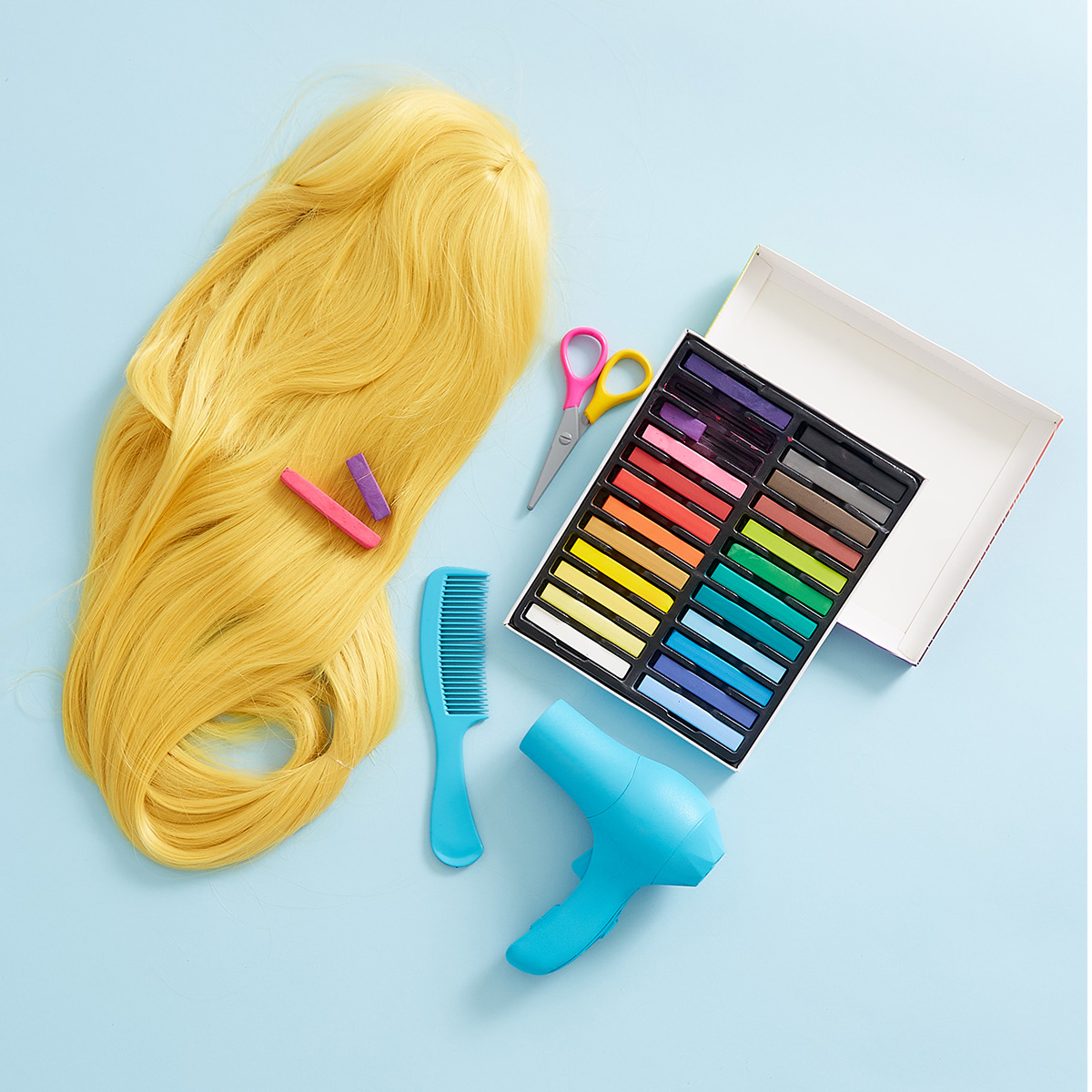 Step One: To re-create Sunny's stylish hairdo, use hair chalk to add pink and purple streaks to a blonde wig.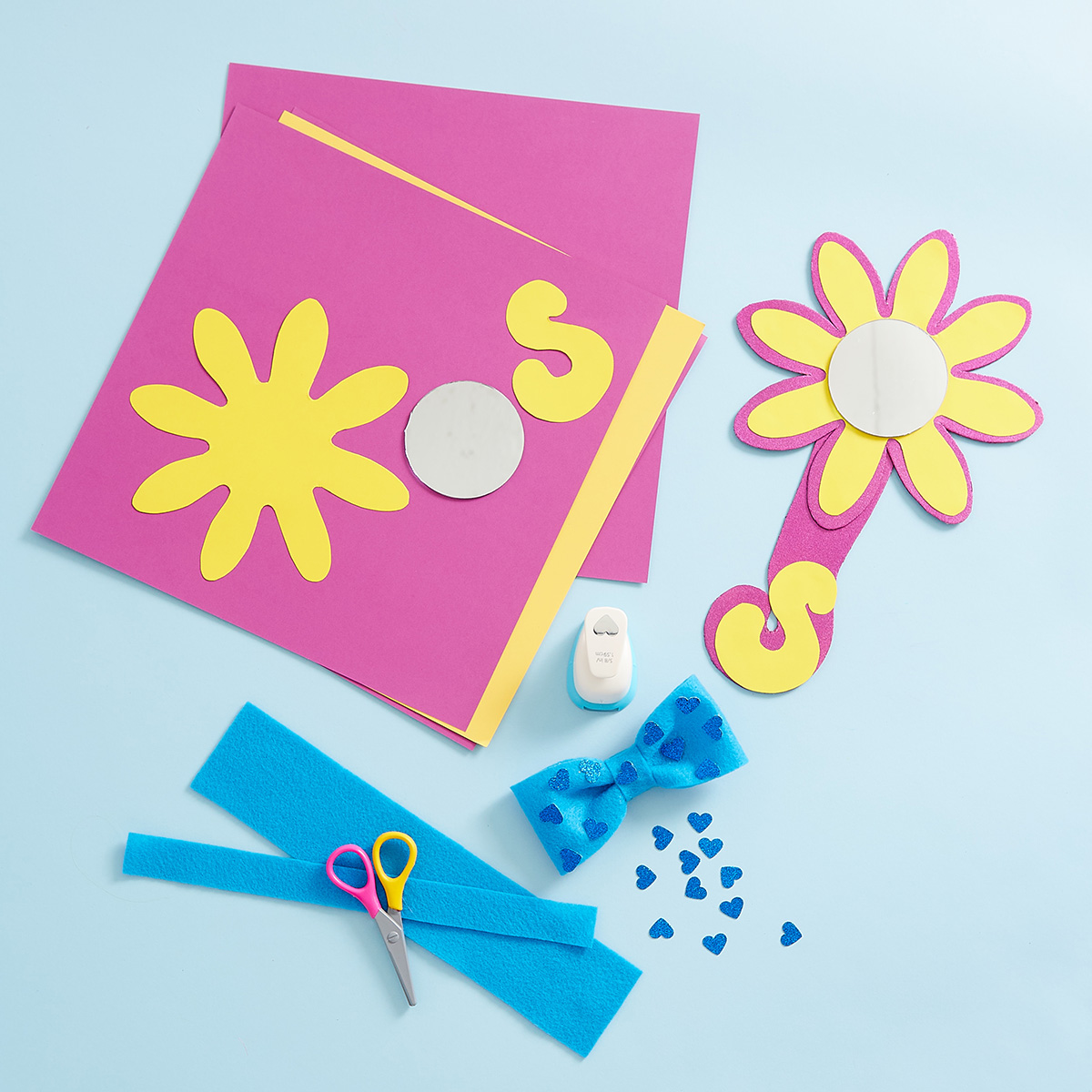 Step Two: To make Sunny's mirror, cut sun shapes out of your pink and yellow cardstock and glue together (the yellow should be slightly smaller so it reveals a pink border). Glue a small round craft mirror to the center of the yellow. To make the handle, cut out some pink cardstock in the shape of the top of a question mark and decorate a with a yellow felt "S." Glue the base and handle pieces together and voilá!
Step Three: Make Doodle's bow with two strips of blue fabric, one should be thicker than the other. Fold the thicker piece together, then wrap the thinner piece around the center to create the bow. Hole-punch some blue hearts out of a sheet of glittery sticker paper, and attach them to the bow to create Doodle's signature accessory. Glue to an elastic string and set aside to dry. Then place it on your pup!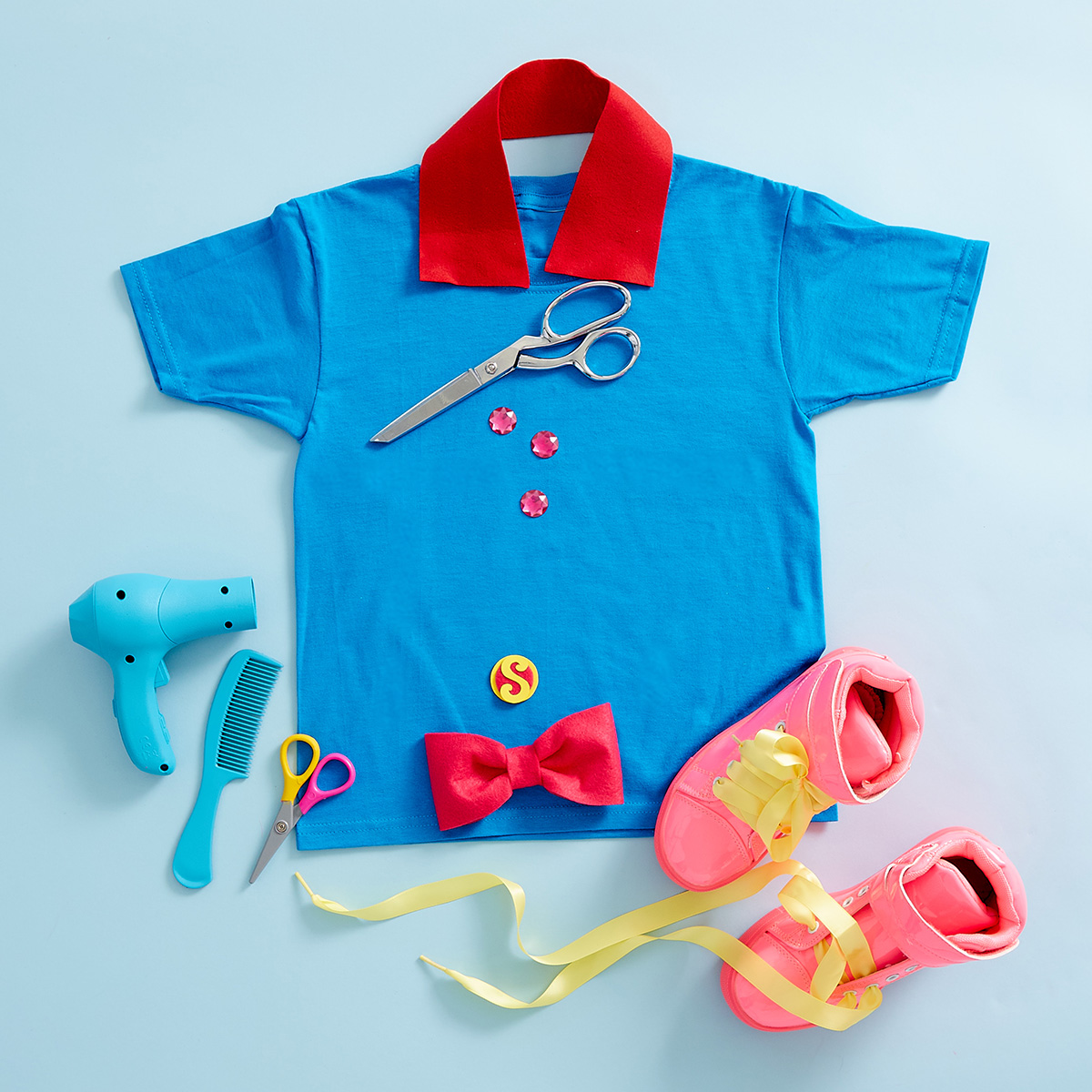 Step Four: Make a plain blue kids t-shirt sparkle with some red fabric and pink gems! Cut two collar-shaped pieces out of your red fabric and hot glue them to the top of the blue t-shirt. Then, glue three pink craft gems down the front of the blue t-shirt to re-create Sunny's buttons.
Step Five: Using the photo above for reference, cut two skirt toppers out of the purple and yellow felt. Cut thick and thin strips out of the white fabric and hot glue them to the yellow felt. Fasten the finished decorations to your pink tutu.
Step Six: For Sunny's belt, measure around your child's waist, then use this measurement to cut a strip of pink felt. Make a bow out of the pink fabric using the method discussed in step three. Next, cut two circles out of the yellow and pink felts (the yellow one should be slightly bigger) and hot glue them together. Cut out and attach a small yellow S to the circular piece, then glue together the rest of your belt!
Step Seven: Lace up a pair of pink sneakers with some yellow ribbon, and your child will be ready to get styling!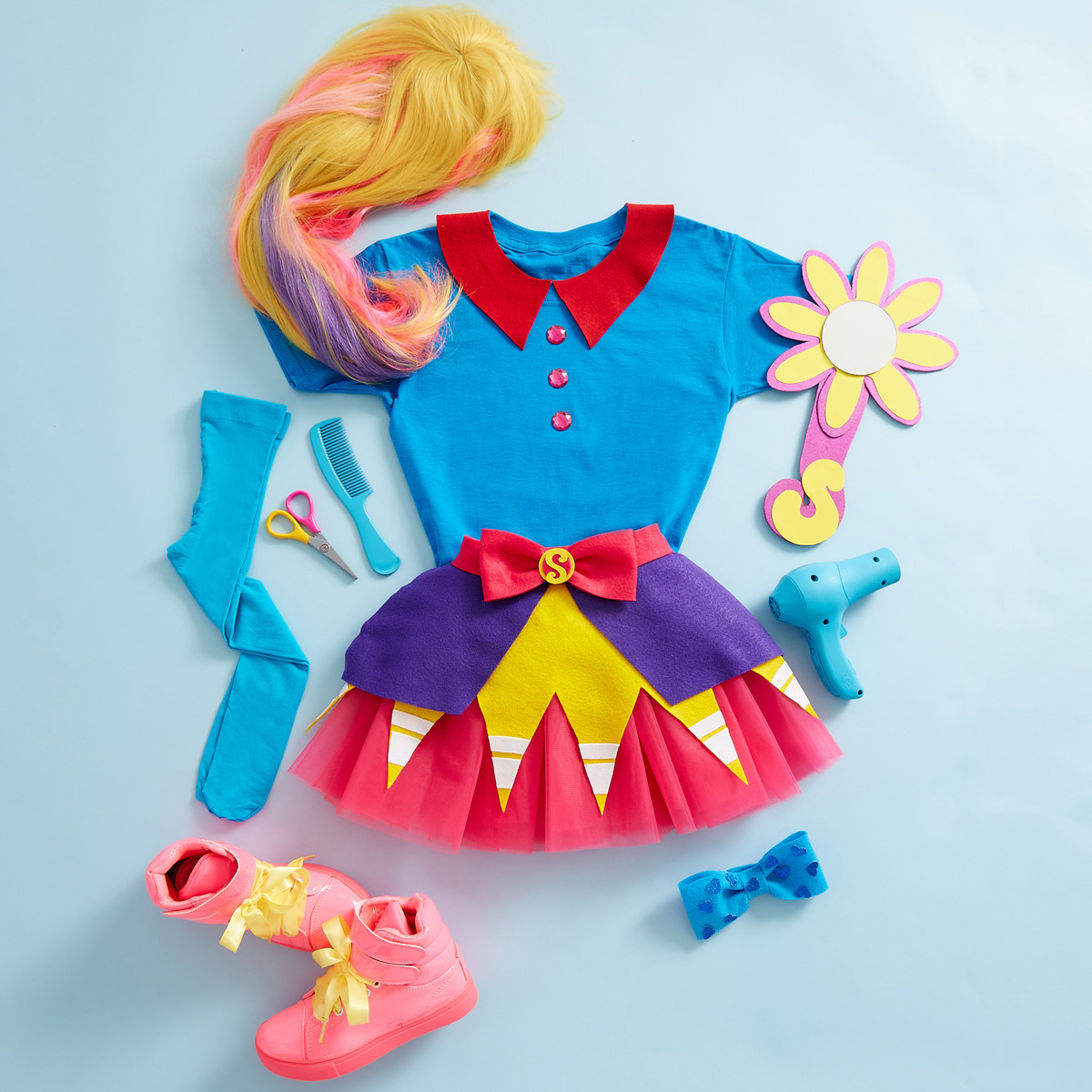 Now all that's left is to gear up and go!