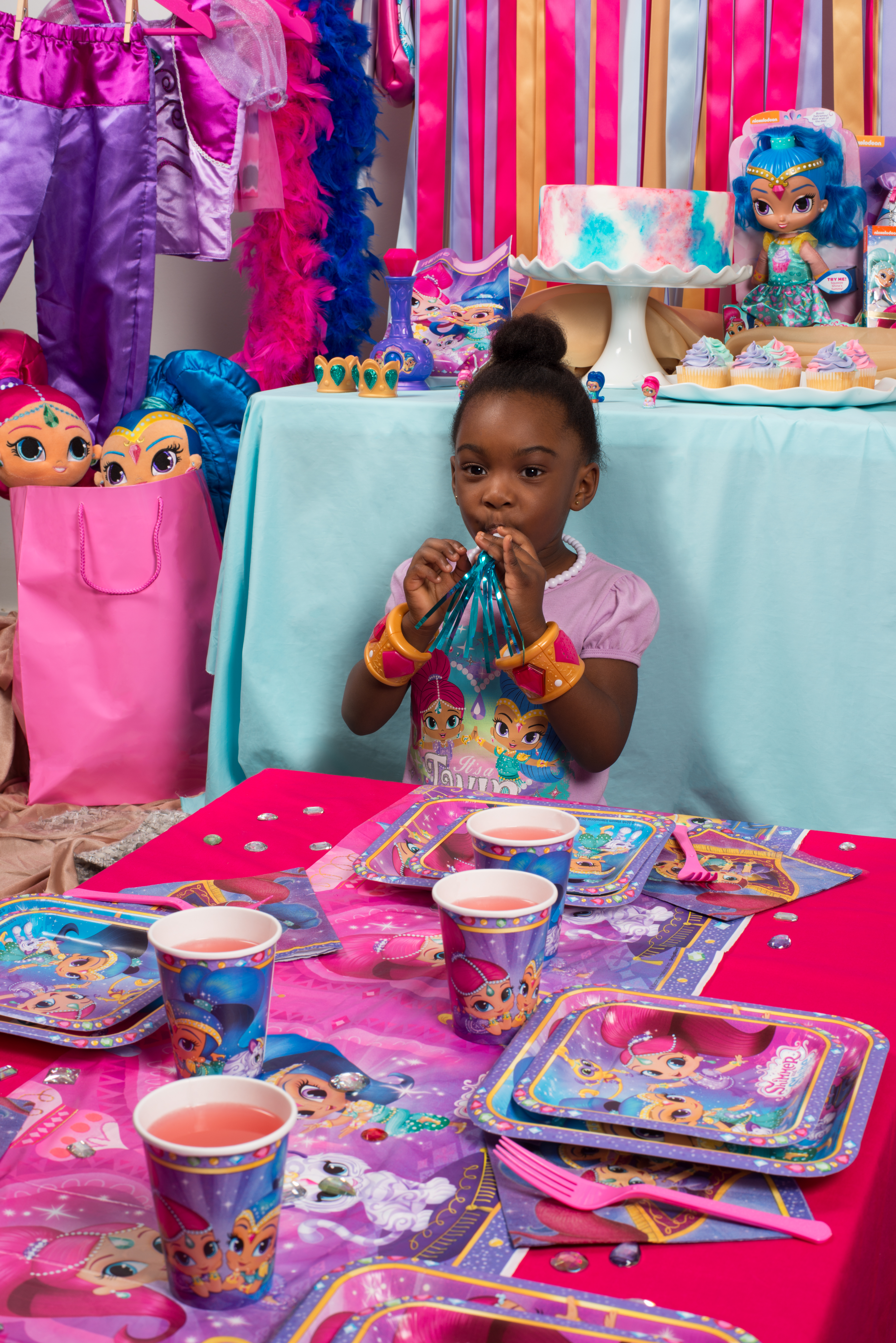 Grant your genie lover's wish with a super sparkly Shimmer and Shine birthday party!  Follow our step-by-step guide below to help your day in Zahramay Falls run smoothly.
Step 1: Set the scene
It's time to prep and set your table! Bring the theme to life with the Shimmer and Shine party packs. The plates, napkins, cups, utensils and table cloth are all included in one easy, convenient pack. Add some sparkle to the table with the Shimmer and Shine table runner and personal touches like glitter and confetti.
Step 2: Genie-rific Treats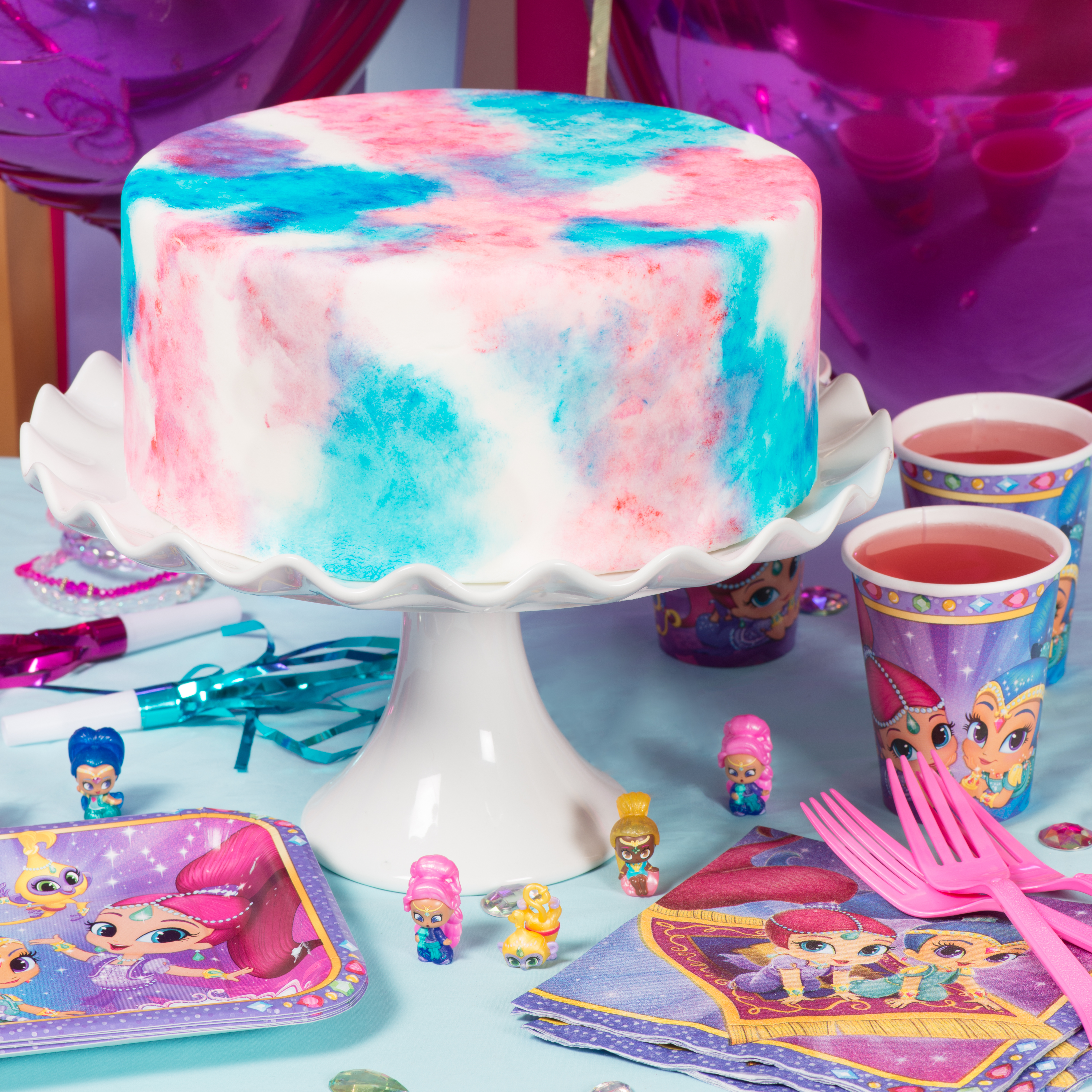 No birthday would be complete without cake! Blues, pinks, and purples, with plenty of glittery accents will fit in perfectly with your theme and match the party goods perfectly. Decorate the area where the cake will be displayed with some fun balloons.
Step 3: Magical Activities
Crafts like coloring are a great way to get right into party mode from the moment guests arrive! Set up an area with coloring books and customizable items like the Shimmer and Shine Color n' Style Purse.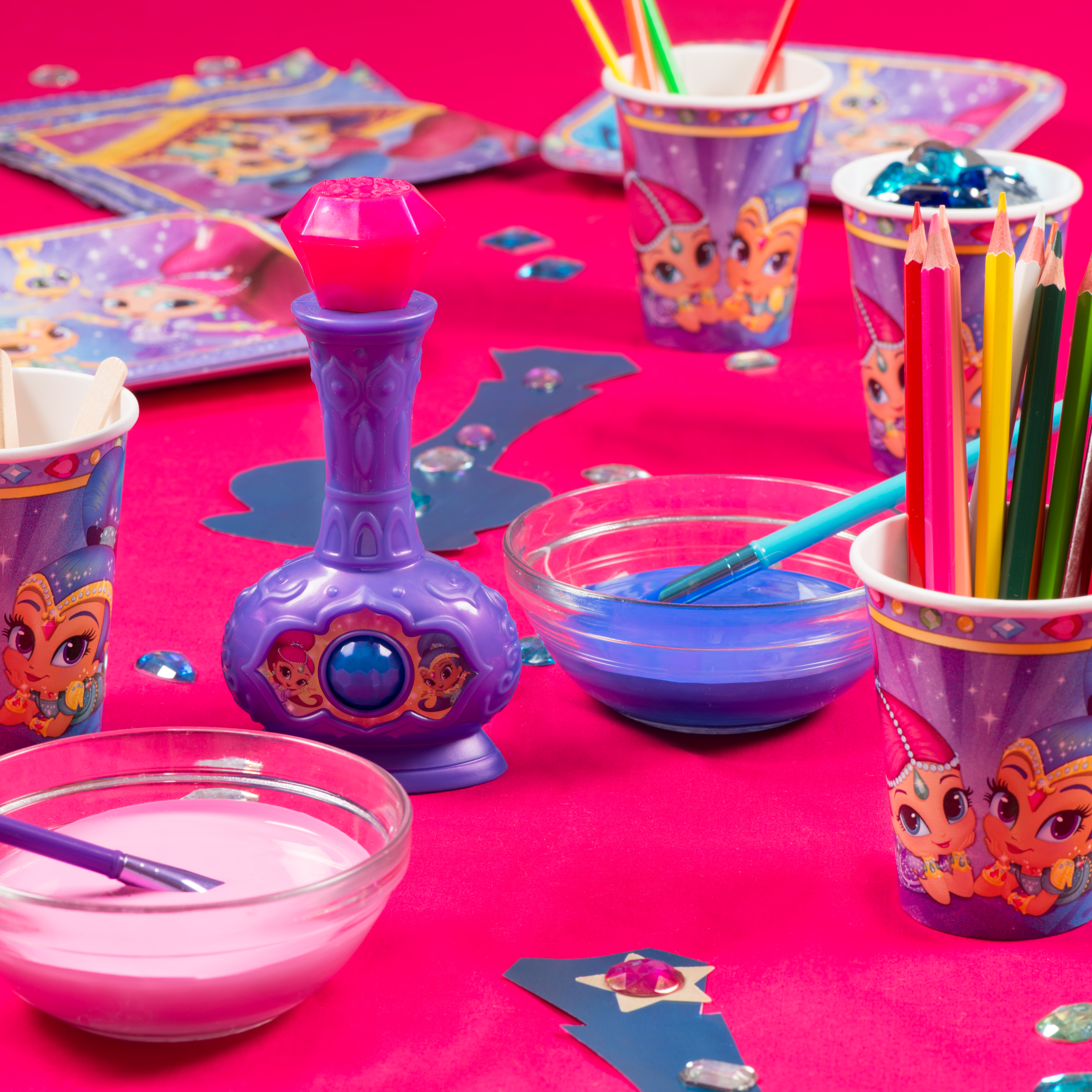 As an activity during the party, have each guest create their own magical genie bottle to take home. Cut out genie bottles from colored cardstock paper and set up a station with pink and blue paint and plastic gemstones to decorate. Keep the area organized and looking great by storing supplies in cups.
Step 4: Dress Up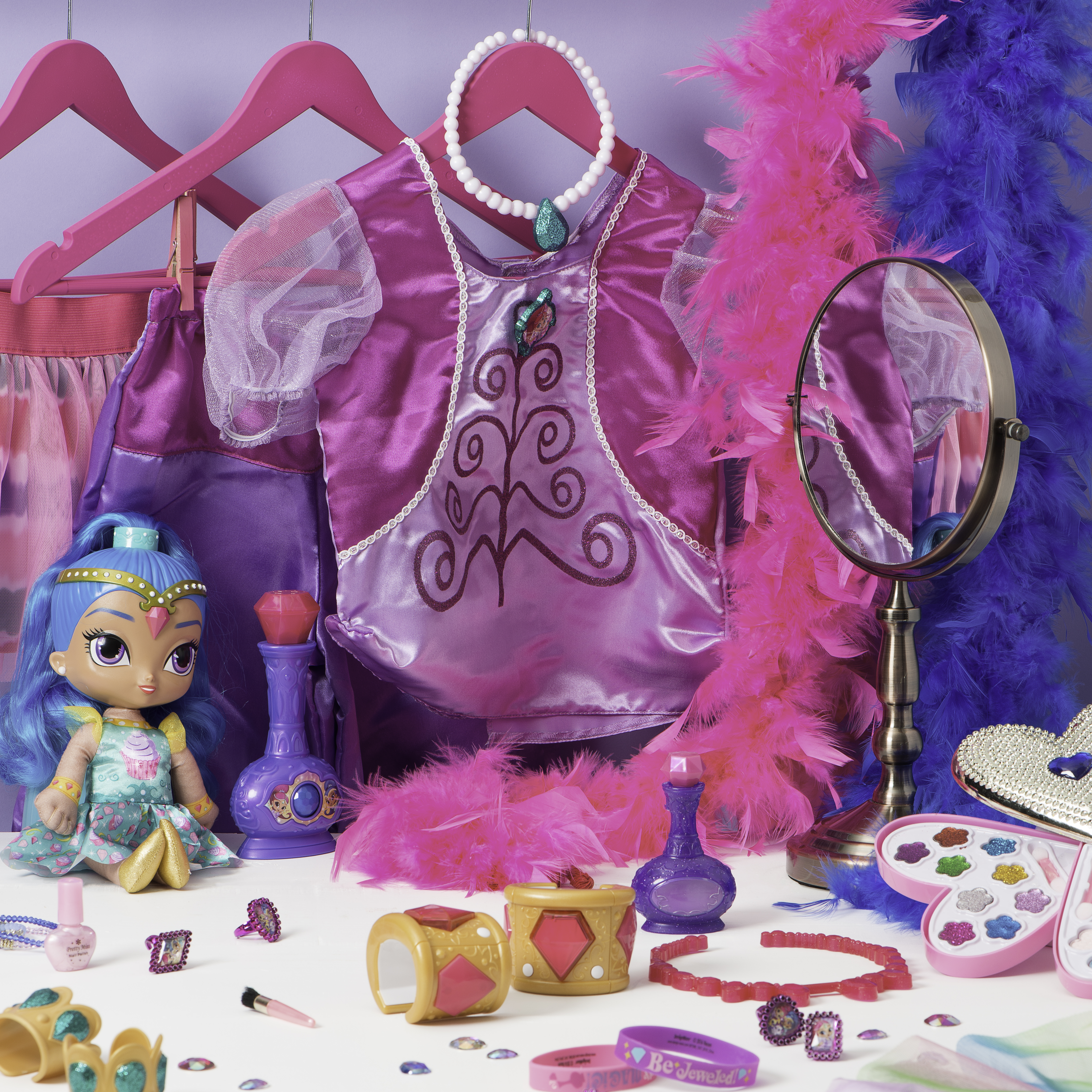 A dress-up section adds some sparkly spice to the party and lets your guests channel their inner genie! Set up an area with dress up sets and magical accessories like these dress up cuffs.
Step 5: Party Favors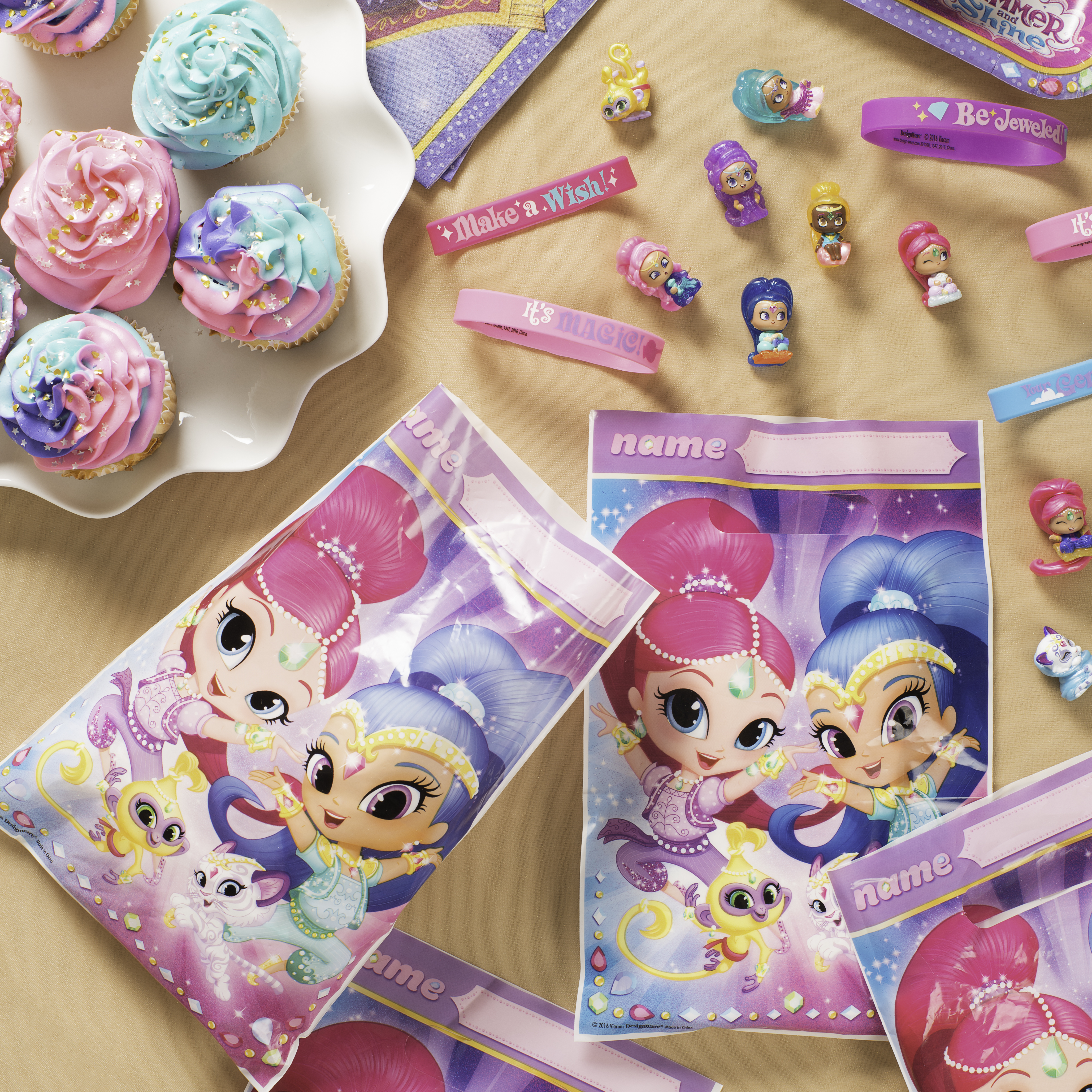 Send your guests home with some sweet surprises! Stuff Shimmer and Shine party favor bags with these Teenie Genies!
Step 6: Genie-rific Gifts
If you're deciding what gifts to buy for your child's birthday, look no further! The Shimmer and Shine Singing Birthday Wishes Dolls and Sleepover Wishes Book are great choices to help make all their birthday wishes come true.
Step 7: A Personalized Phone Call From Shimmer and Shine! 
Finally, to really put the day over the top join the Nickelodeon Birthday Club for a personalized phone call from Shimmer and Shine (or one of 10 additional characters). It's free and easy!
For more Shimmer and Shine party needs, head to Walmart and Walmart.com!
Save
Save
Save