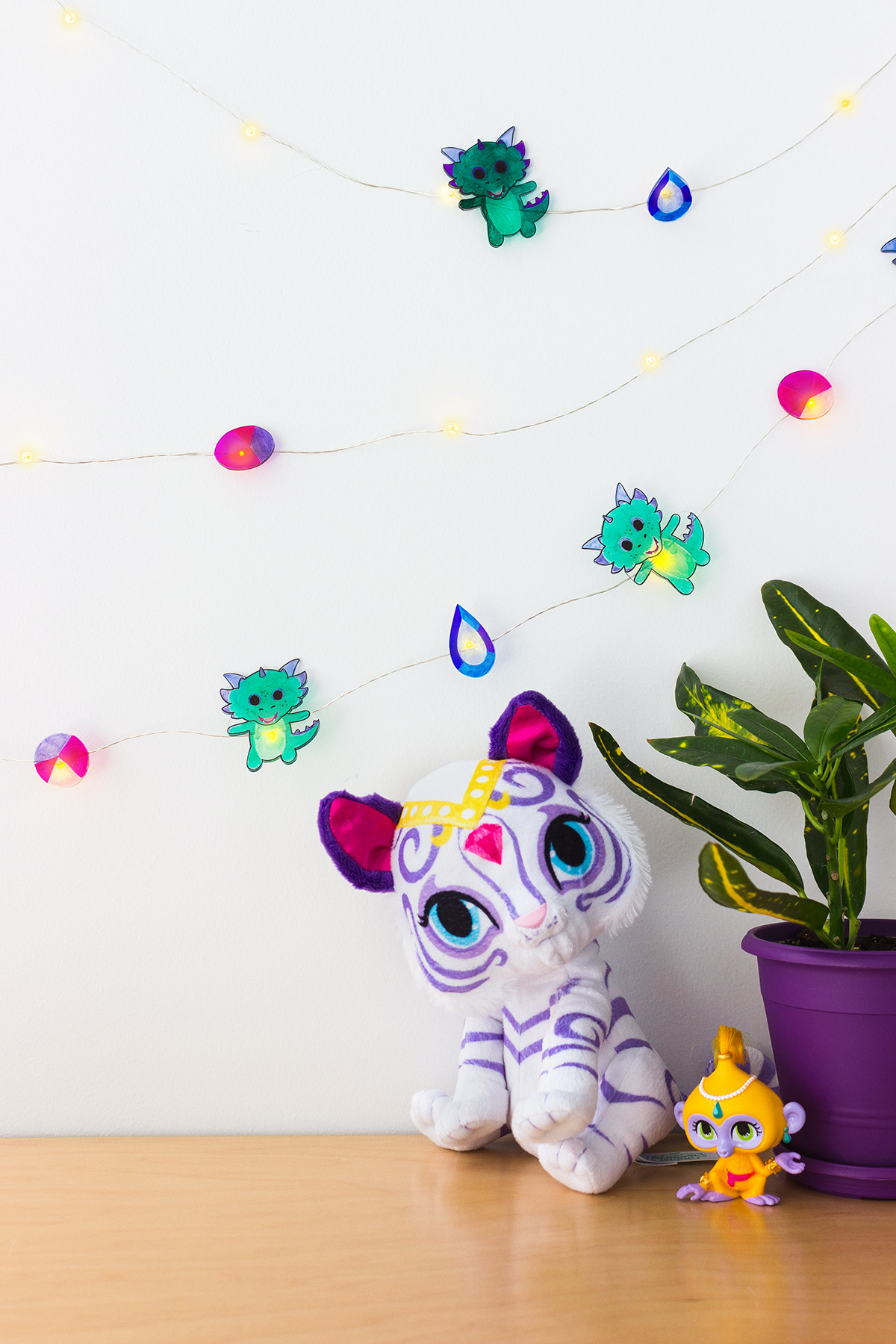 No matter how old you get, it's hard to forget the magic of Shrinky Dinks. All you had to do was draw or trace your design onto a plastic sheet, bake it, and Boom Zaharamay! Your design instantly transformed into jewelry, decor, and more. Isn't it about time you introduce the simple joy of shrinkable plastic to your Shimmer and Shine fan? Our version features Nazboo, genie gems, and twinkle lights that will make your patio or  playroom sparkle.
What You'll Need
Shrinkable plastic sheets
Template (print below!)
Black sharpie
Colored pencils or permanent marker
Hole puncher
Scissors
Cookie sheet tray
Oven
Twinkle lights
How to Make
Step 1: Print the templates above and trace Nazboo and the gems onto shrinkable plastic sheets. Be sure to outline the design in black sharpie and to color in Nazboo's eyes. Otherwise, use colored pencils or permanent market to add color to your craft. Cut out Nazboo and the gems and make a hole in each using the whole puncher (so the shape can easily be attached to the twinkle lights later on).
Step 2: Line a cookie sheet tray with non-stick aluminum foil. Place your creations on the tray, rough side up. Leave space between the shapes so they don't stick together! While you are doing this, preheat the oven to 325 degrees Fahrenheit. Once the oven is preheated, place the cookie tray inside. Bake for 1 to 3 minutes. Remove and allow to cool.
Step 3: Attach the finished pieces to twinkle lights to watch your creation shimmer and shine!