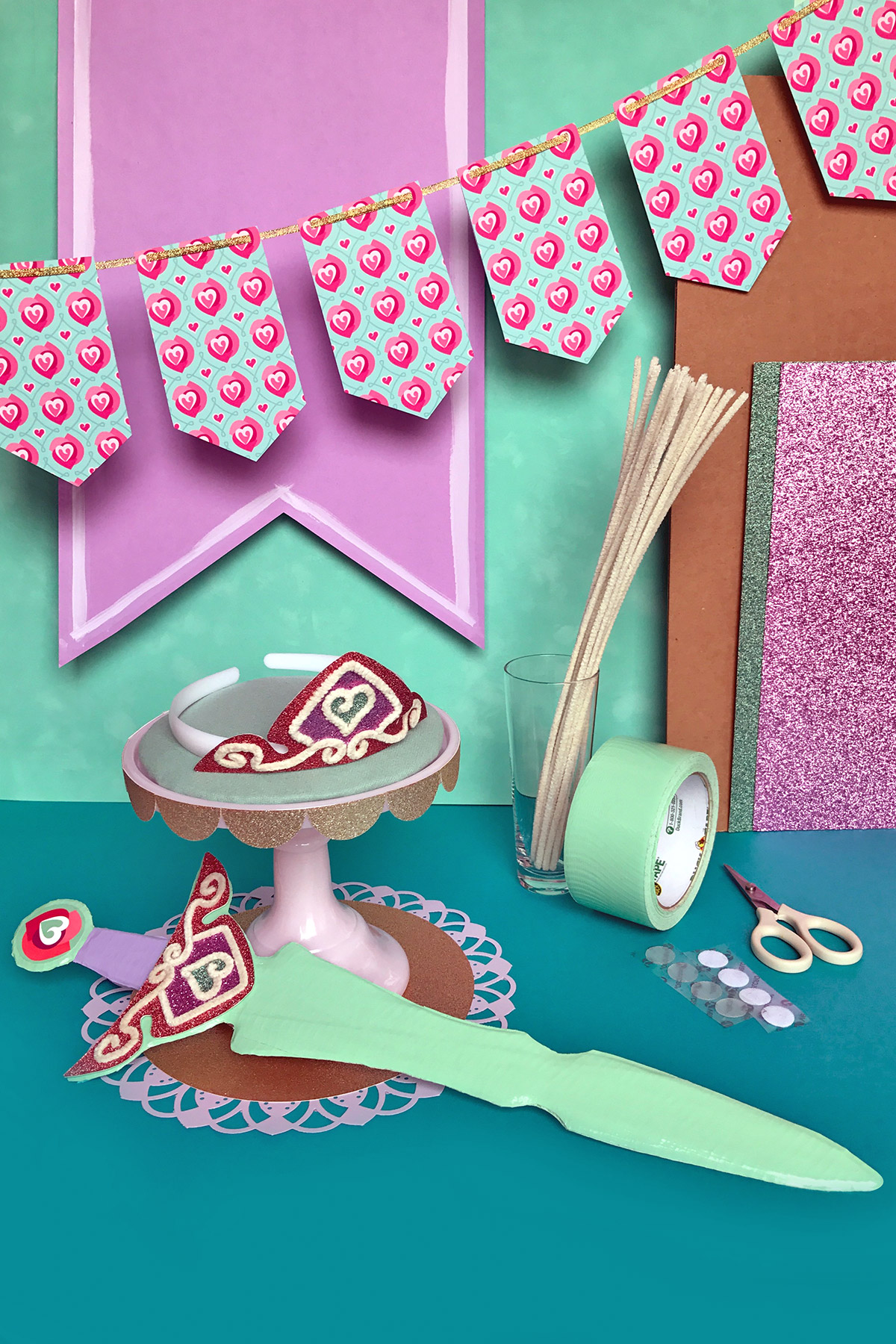 Always ready for her next adventure, Nella the Princess Knight needs accessories that can multitask! Kids can help you create a tiara that magically transforms into a sword, just like Nella's. All it takes is a handful of household items and a BIG imagination. Nella the Princess Knight premieres Monday, February 6th, on Nickelodeon.
(Difficulty Level: Hard)
What You'll Need
Printable sword, tiara & sword handle templates (print below!)
Corrugated cardboard
Colored duct tape, pastel green & pastel purple
Heavy weight paper
Glitter paper, pink, purple & green
Pipe-cleaners, white
1/2″ wide headband
Velcro dots
White glue
Scissors
Craft knife
Cutting mat
Wire snips
Tape
How to Make
Step One: Print and cut out templates.
Step Two: Cut and tape sword template together.
Step Three: Tape sword template to a piece of corrugated cardboard with the "lines" of the cardboard running the length of the sword. Using craft knife on cutting mat, cut around template to create cardboard sword.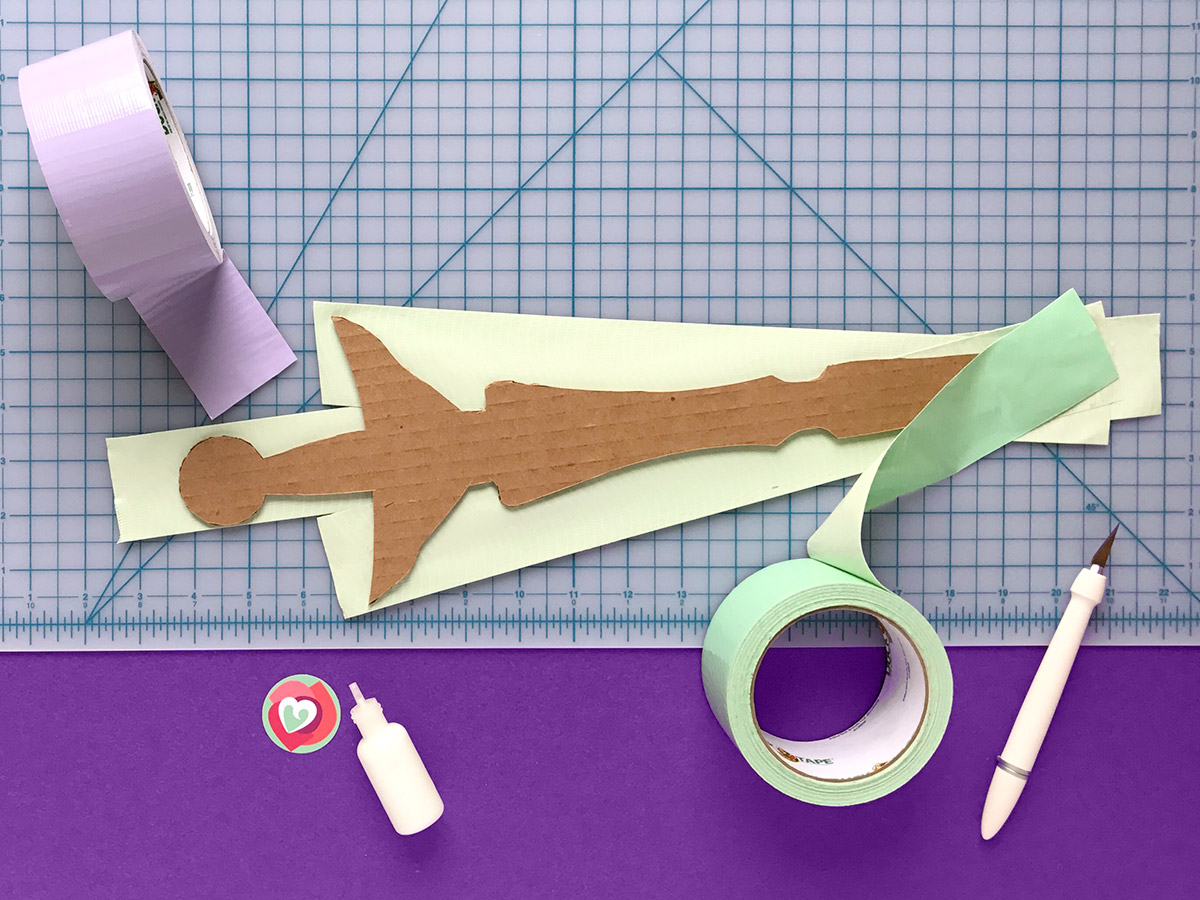 Step Four: Cover sword with pastel green duct tape running tape from tip of sword to handle, overlapping tape to cover cardboard completely. Flip sword over and cover the backside completely as well. Use your finger to press tape together around sword. Cut the excess duct tap from around sword, leaving a 1/8″ border.
Step Five: Cut two pieces of pastel purple duct tape and adhere to front and back of sword handle. Trim excess.
Step Six: Cut out sword handle template and glue to bottom of sword handle. Set aside to dry.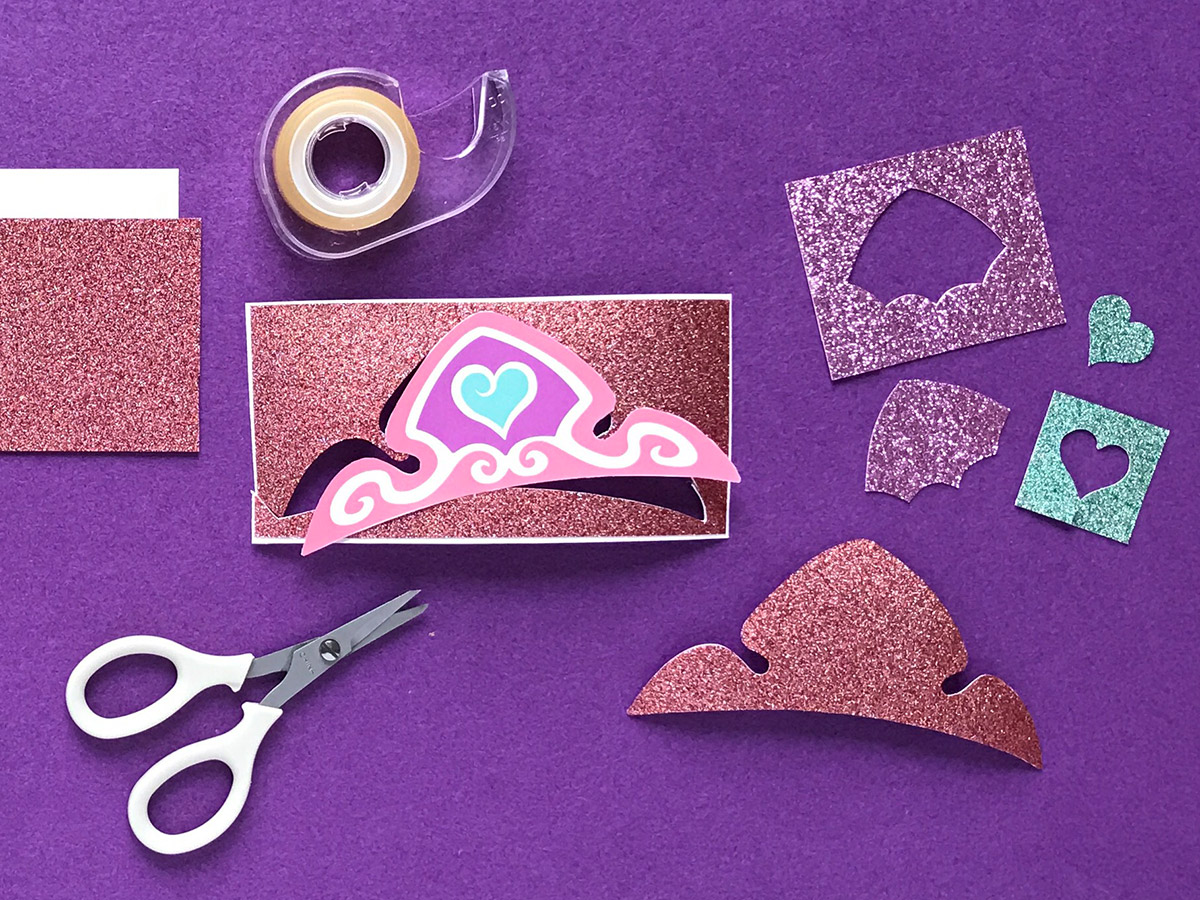 Step Seven: Glue a piece of pink glitter paper (about the size of the tiara template) to heavy weight paper. Allow to dry. Once dry, trim around tiara design. Tape one template to mounted pink glitter paper and cut around tiara shape with scissors. Remove template.
Step Eight: Repeat with a piece of purple glitter paper. With scissors, cut around purple shape on template. Remove template. Then, repeat with green glitter paper. With scissors, cutting only around green heart shape on template.
Step Nine: Using a fresh copy of the tiara template as a guide, bend and shape white pipe-cleaners into the white details on template. Use wire snips to trim pipe-cleaner.
Step Ten: Layer and glue the tiara pieces together. Allow to dry, placing under a heavy book (with wax paper) if necessary.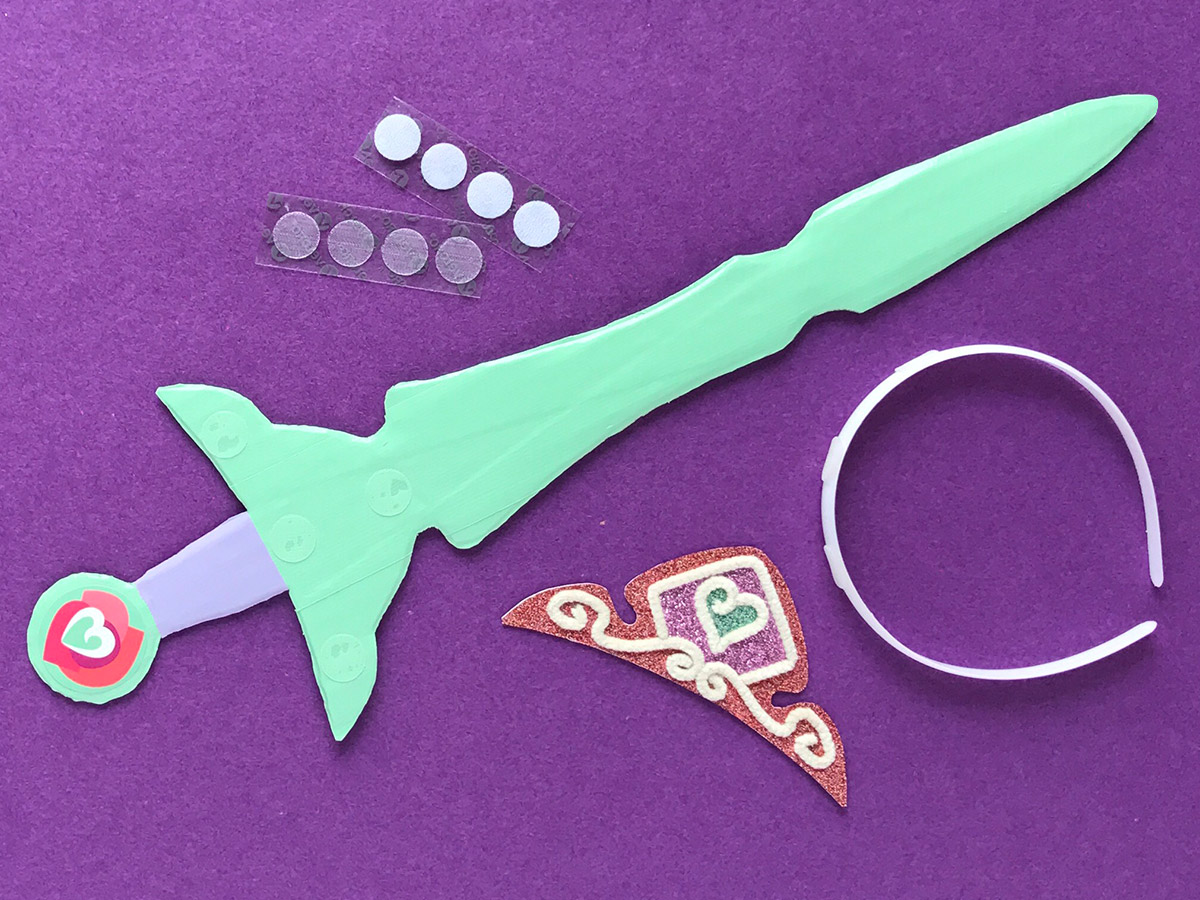 Step Eleven: Place three soft Velcro dots along back bottom edge of tiara and one soft dot on back top center. Stick rough dots on top off adhered dots with sticker side facing out. Place tiara shape on sword handle and press down. Gently remove tiara, making sure the rough dots stay on sword handle. Press rough dots firmly down on sword.
Step Twelve: Stick three new rough dots on top of soft dots on tiara. Carefully line up dots and press into place on headband. Gently remove tiara, leaving rough dots on headband. Press rough dots firmly down onto headband.
Your child's glamorous tiara can now quickly and easily transform into a mighty sword!
Make your child's birthday extra special by setting up a personalized call from their favorite Nickelodeon character when you join the Nickelodeon Birthday Club. It's free and easy!