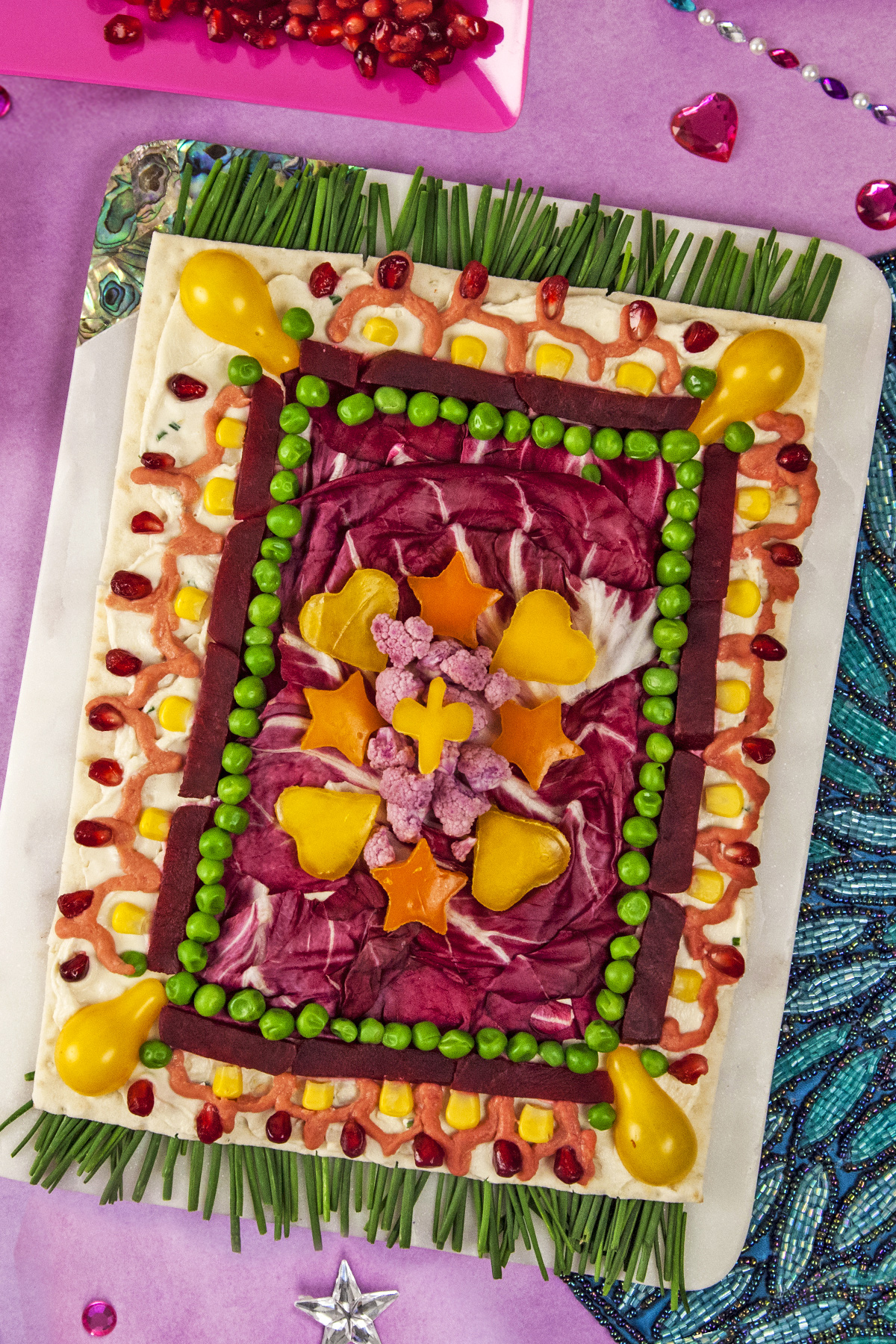 This veggie-filled recipe will serve as the scene-stealing centerpiece of your child's magical Shimmer and Shine birthday party!
(Difficulty Level: Medium)
What You'll Need
1 Lavash
1 Bunch chives
1/2 Cup Greek yogurt
3/4 Cup store bought hummus
1/2 Tsp beetroot powder
1/4 Cup radicchio
1/4 Cup corn kernels
1 Can of beets, sliced into ½" strips
2 Tear-drop tomatoes sliced in half
1/2 Yellow bell pepper
1/2 Orange bell pepper
1/4 Cup purple cauliflower, cut into small florets
2 Tbsp pomegranate seeds
Paring knife
1″ Star shaped cookie cutter
1″ Heart shaped cookie cutter
Plastic bag or piping bag
Mixing bowl
How to Make
Note: Use photos for reference when shaping ingredients and arranging them on the platter.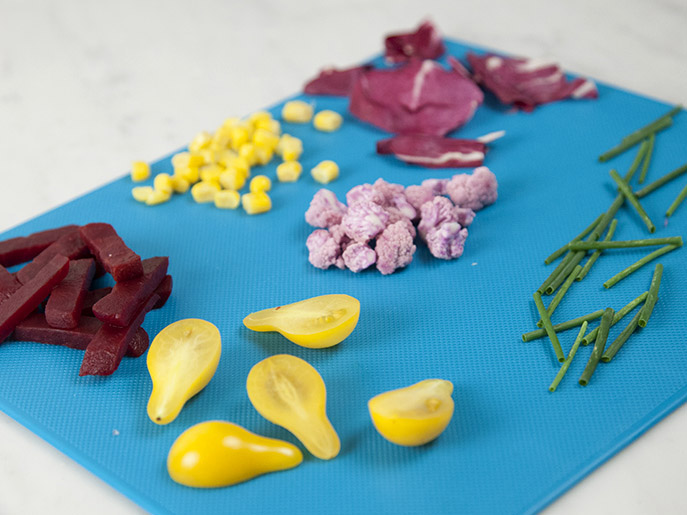 Step One: Prep your ingredients:
In a sandwich bag, mix 1/4 cup of the hummus with the beetroot power, setting aside remaining 1/2 cup of hummus for later. Snip a tiny corner off the sandwich bag to use for piping.
Cut 3/4 of the bunch of chives into 2″ pieces. Finely chop the remaining quarter bunch.
Tear the radicchio leaves into small, square-shaped pieces.
Use the cookie cutters to cut hearts out of the yellow pepper and stars out of the orange pepper.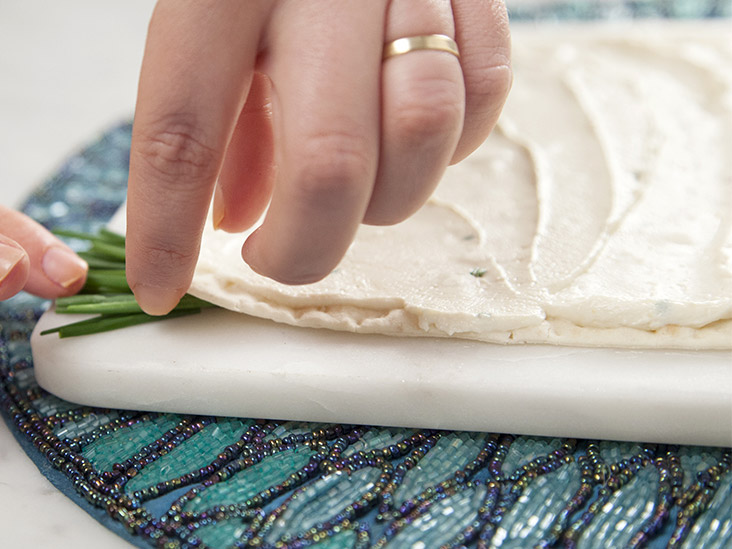 Step Two: Mix the yogurt, hummus, and finely chopped chives together, then spread the mixture onto the lavash. Place the lavash on a platter and tuck the 2″ chive pieces under the two shorter sides of the lavash.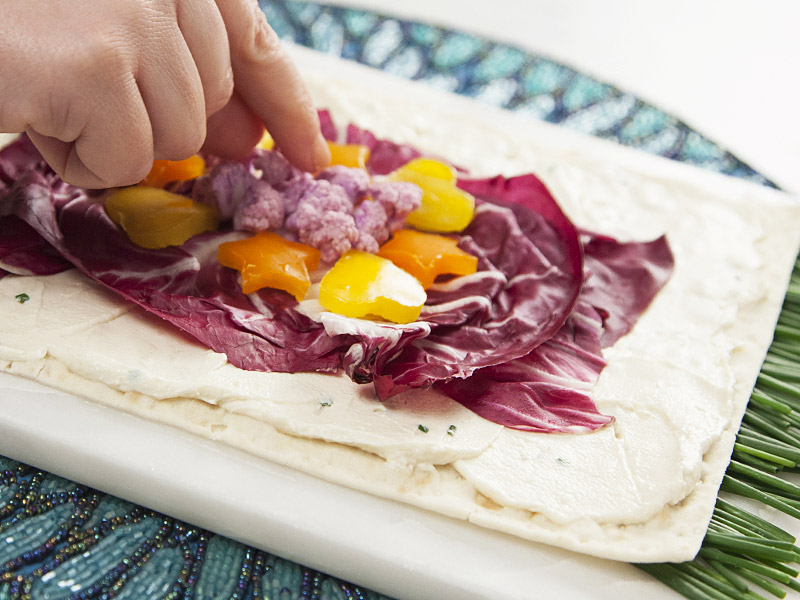 Step Three: Assemble the torn radicchio leaves on the lavash. Leave a small rectangle in the middle empty, then fill it with the cauliflower florets. Top the cauliflower rectangle with the bell pepper hearts and stars.
Step Four: Outline the radicchio with the sliced beets, leaving a small space at each corner. Place a halved tomato in each corner space. Line the inside perimeter of the beets with green peas.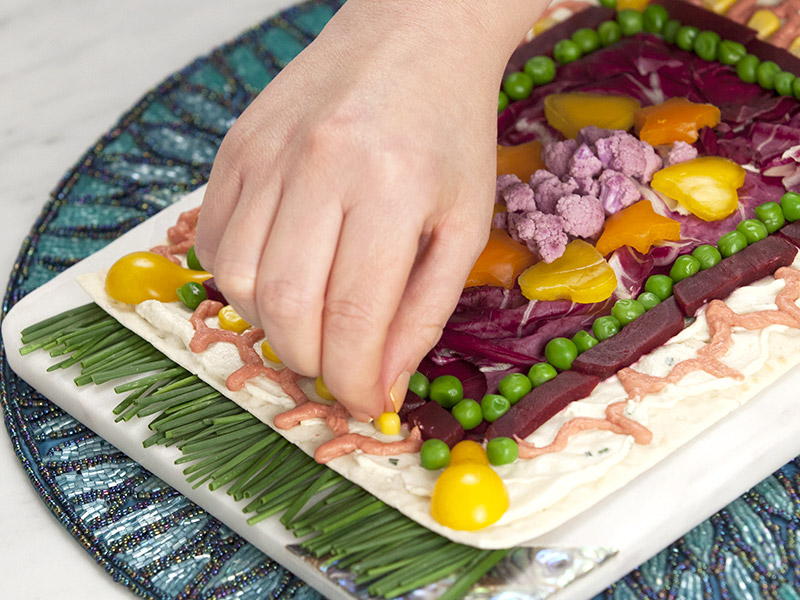 Step Five: Pipe the beet hummus in a swirly pattern around the outside edge of the lavash. Decorate around the beet hummus with the corn kernels and pomegranate seeds.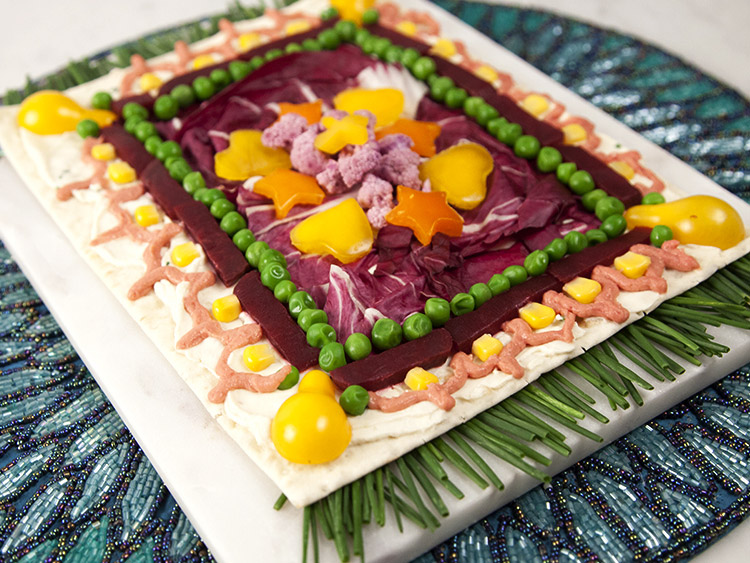 Now feast your eyes on this festive snack!