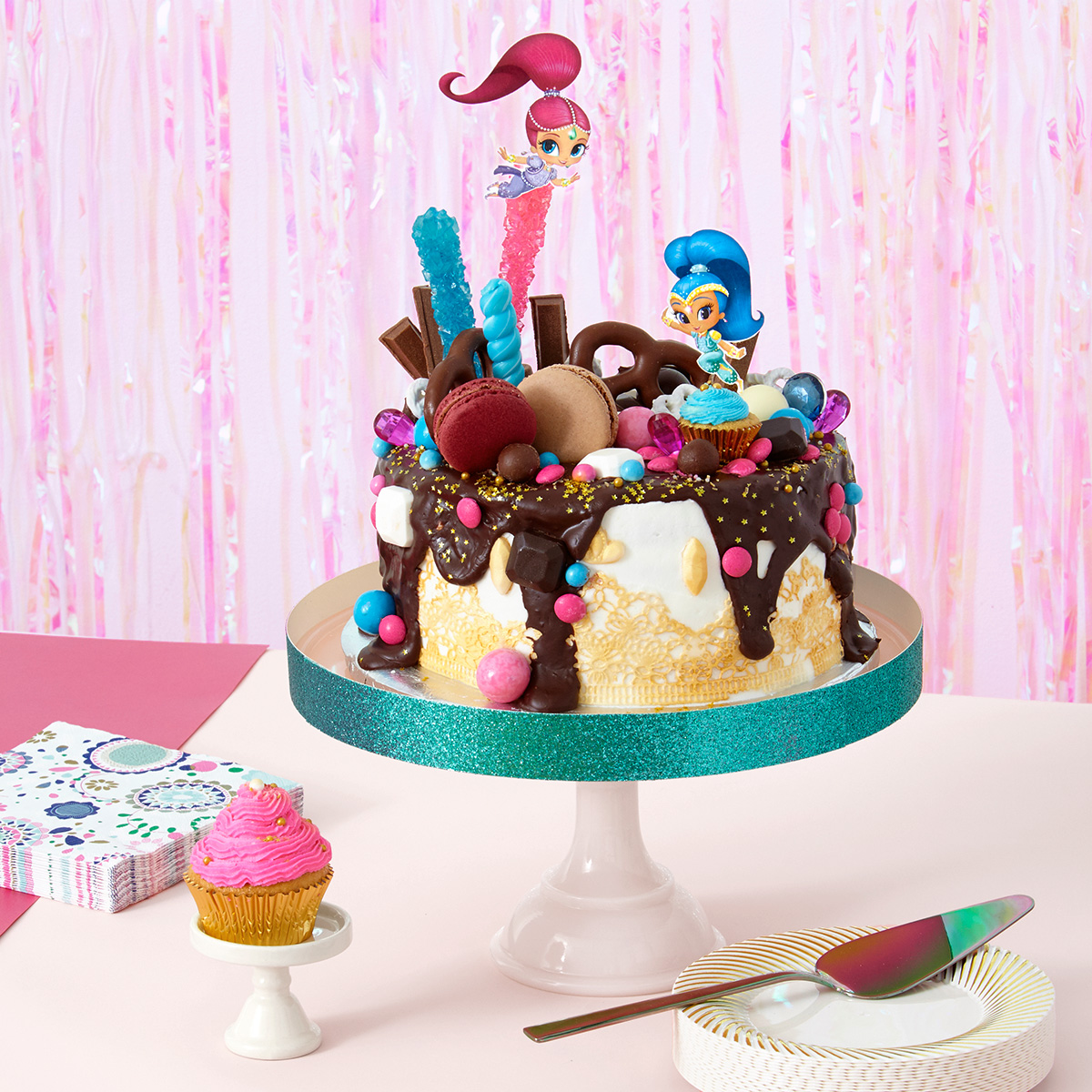 What do you get when you ask Shimmer and Shine to make a birthday cake? An "Oopsie" Cake! Some call it a messy concoction; we call it a mesmerizing confection. Scatter your little one's favorite sweet treats on and around the cake. We used everything from macarons to rock candy.
This cake has limitless possibilities for personalized decoration. And the best part: it doesn't have to be perfect!
(Difficulty Level: Medium)
What You'll Need
For the cake
4 9" round cake pans
2 boxes of your favorite flavor cake mix (and corresponding ingredients such as shortening and flour, eggs, vegetable oil, and water)
Round cake board or flat round plate
Cake lifter (optional)
Cake turner (optional)
Serrated bread knife or cake leveler
Electric mixer
Mixing bowl
Rubber spatula
Large metal icing spatula
2-3 tubs of your favorite flavor frosting
For the ganache
1 cup heavy cream
9 oz bittersweet chocolate chips or baking chocolate (broken into small chunks)
Small saucepan
Medium bowl
Whisk
For decoration
You can use any edible candies or fruit for this, since the decorations are meant to be sculptural. The more variety in shape and size, the better:
Strawberries, blueberries, and/or raspberries
Chocolate-covered pretzels
Pocky
Chocolate truffles
Kit-kat bars
M&Ms
Sixlets
Edible glitter
Sprinkles
Edible lace
Macarons
Pralines
Lollipops/Rock candy
How to Make
Step One: Grease and lightly flour the four 9" round baking pans, and preheat the oven according to box directions. Depending on how hot the bottom of your oven gets, you will probably want to bake two pans at a time in the center rack.
Each box of mix will make two pans of cake, so evenly divide mixed batter into the pans and bake.
Step Two: Once baked through, allow cakes to cool in their pans for ten minutes before overturning them onto a cooling rack. Make sure cakes are completely cool before proceeding.
Step Three: Using a cake leveler or long serrated knife, carefully cut the domes of the cakes off so that all four cakes are uniformly level. Use scrap cake for a cake pop project, trifle, or taste test!
Step Four: With icing spatula, add a small dollop of icing to the cake board or plate to act as a glue. Place first cake layer on the frosting. Spread icing on top of the first layer, adding on thickly so as not to stir up crumbs. Place the second layer on top, taking care to keep things even and cylindrical. Repeat for cake layers three and four.
Step Five: Frost the exterior of the cake using your preferred method, taking care to keep things smooth and even.
Step Six: Make the ganache: Pour bittersweet chocolate chips or chunks into a bowl. Heat 1 cup of heavy cream on medium-high heat until just boiling. Be sure to watch the cream, since it can overflow rapidly! Pour the boiling cream over the chocolate in the bowl and let sit for a couple of minutes. Use whisk or spatula to stir cream and chocolate together until it's a velvety consistency. Allow to cool for approximately ten minutes, or until it's less runny.
Step Seven: Pour the ganache onto the center top of the cake slowly and allow it to puddle outwards, creating drips down the sides that cover the cake's "perfection." Work slowly so that you don't add too much ganache all at once. Once finished, refrigerate the cake and allow ganache to set.
Step Eight: Begin adding macaron, glitter, rock candy, and more.. The idea is to make the cake look glittery and charmingly imperfect. Have fun with it!
*In our Shimmer & Shine cake, chocolate gems in white, milk, and dark chocolate were created using gem-shaped chocolate molds (available online) and candy melts (available at your local party store). Fondant gems used on the cake itself were made from white fondant, a jewel fondant mold, and edible gold spray (available at your local party store). The edible lace was created from Sugarveil and a lace fondant mat, and sprayed with edible gold spray.
Make your child's birthday extra special by setting up a personalized phone call from Shimmer and Shine themselves (or one of 10 additional characters) when you join the Nickelodeon Birthday Club. It's free and easy!