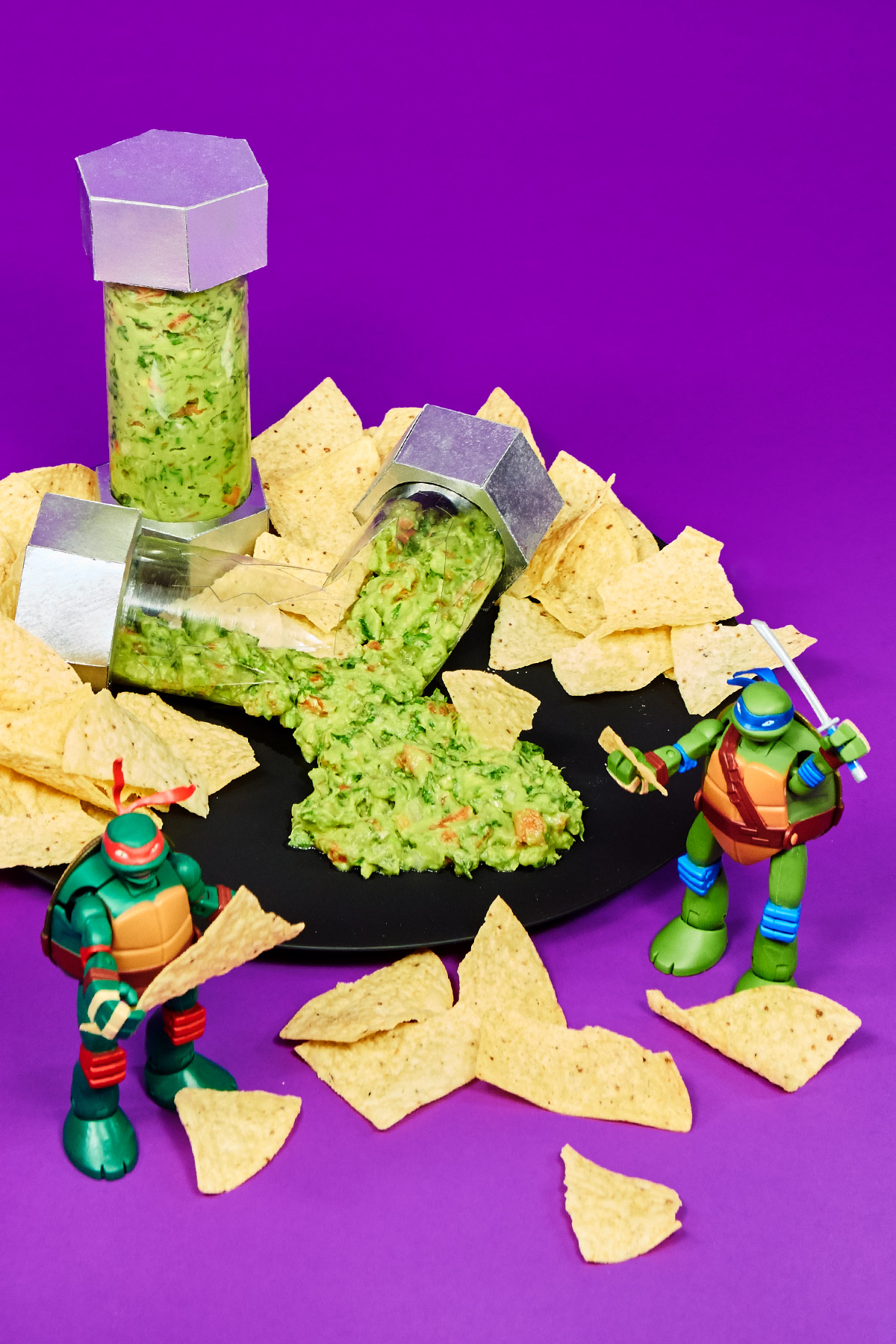 Mutagen. It's the element that transformed four small turtles into the iconic, Foot Clan-fighting Heroes in a Half Shell. The oozy green goop is the perfect Halloween prop piece for your party spread, but would you ever guess that it makes a good snack? That's right, you can munch on mutagen! Don't fret, dudes. There will be no nibbling on yucky sewer sludge. Instead, serve up some yummy, mouthwatering guacamole. It's an awesome alternative to Halloween candy that's all treat and no trick.
How do you make mutagen even better? Serve it in a cool DIY canister! Presentation is everything, dudes.
What You'll Need
Printable templates (print below!)
Cereal box
Silver paint (acrylic or spray)
Smart Water bottle, 23.7 oz size (2.75″ in diameter)
Peanut butter
Dishwashing detergent
Scissors
Exacto knife
Glue
Tape (Optional)
How to Make
Step 1: Trace the template onto the inside of the cereal box. Use a box from General Mill's TMNT cereal for extra Turtle Power!
Step 2: Cut out the template with scissors and score all the folding lines and tabs with an Exacto knife, then glue together. Reinforce with tape on the inside.
Step 3: Use acrylic paint or spray paint to make the hexagon silver. Allow to dry completely.
Step 4: To prepare the bottle, slowly peel off the label and rub the label glue residue with peanut butter. Yes, this handy hack actually works! Leave peanut butter on for 15 minutes and wash off with hot soapy water (dish detergent will do).
Step 5: Cut off the top of the bottle. Use a Smart Water bottle with a base of 2.75" in diameter for best results.
Step 6: Attach one hex to the bottom of the bottle. Let the mutation begin and fill with guacamole! Attach the second hex to the top.
Guaca-mutagen? Muta-mole? Whatever you want to call it, snacking will mutate to new levels of fun with this TMNT Mutagen Canister. Happy Halloween, monsters and mutants!