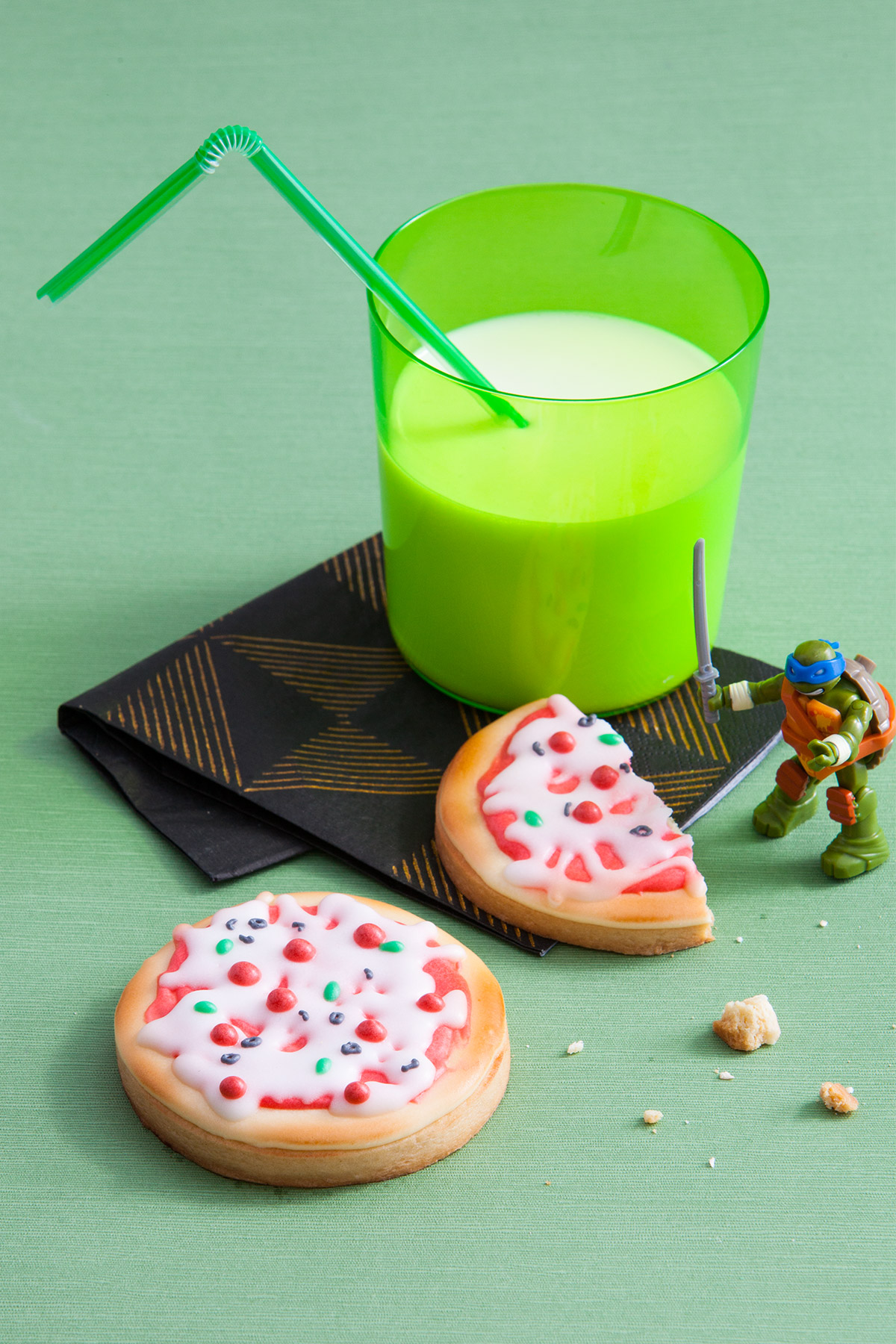 A Teenage Mutant Ninja Turtle party isn't complete without pizza: pizza pendant banners, pizza party goods, and even actual pizza! Top off your cheesy, saucy celebration with an equally scrumptious dessert–pizza cookies! This recipe is straightforward and yields impressive results:
(Difficulty Level: Medium)
What You'll Need
Store-bought sugar cookie dough
Royal icing (basic recipe)
Food coloring in red, green, and black
How to Make
Step One: Bake your favorite store-bought sugar cookies according to the recipe on the package. Allow to cool completely.
Step Two: Put half of the royal icing in a bowl and use food coloring to dye it red. From the remaining white icing, separate out two more Tbsp. Dye one Tbsp of icing green and the other Tbsp of icing black.
Step Three: Decorate your pizza! Begin by icing each cookie with a layer of red. Allow icing to harden completely before using a piping bag to add your layer of cheese (view photo for details). Allow cheese layer to harden completely before piping on green peppers, red pepperoni, and black mushrooms to finish off your masterpiece!
*Optional: We used royal icing to decorate our pizza cookies. Feel free to get creative with your toppings: coconut flakes look just like cheese, and brown and red sprinkles make mean mushrooms and pepperonis. Kids can even make their own!
Make your child's birthday extra special by setting up a personalized call from their favorite Nickelodeon character when you join the Nickelodeon Birthday Club. It's free and easy!