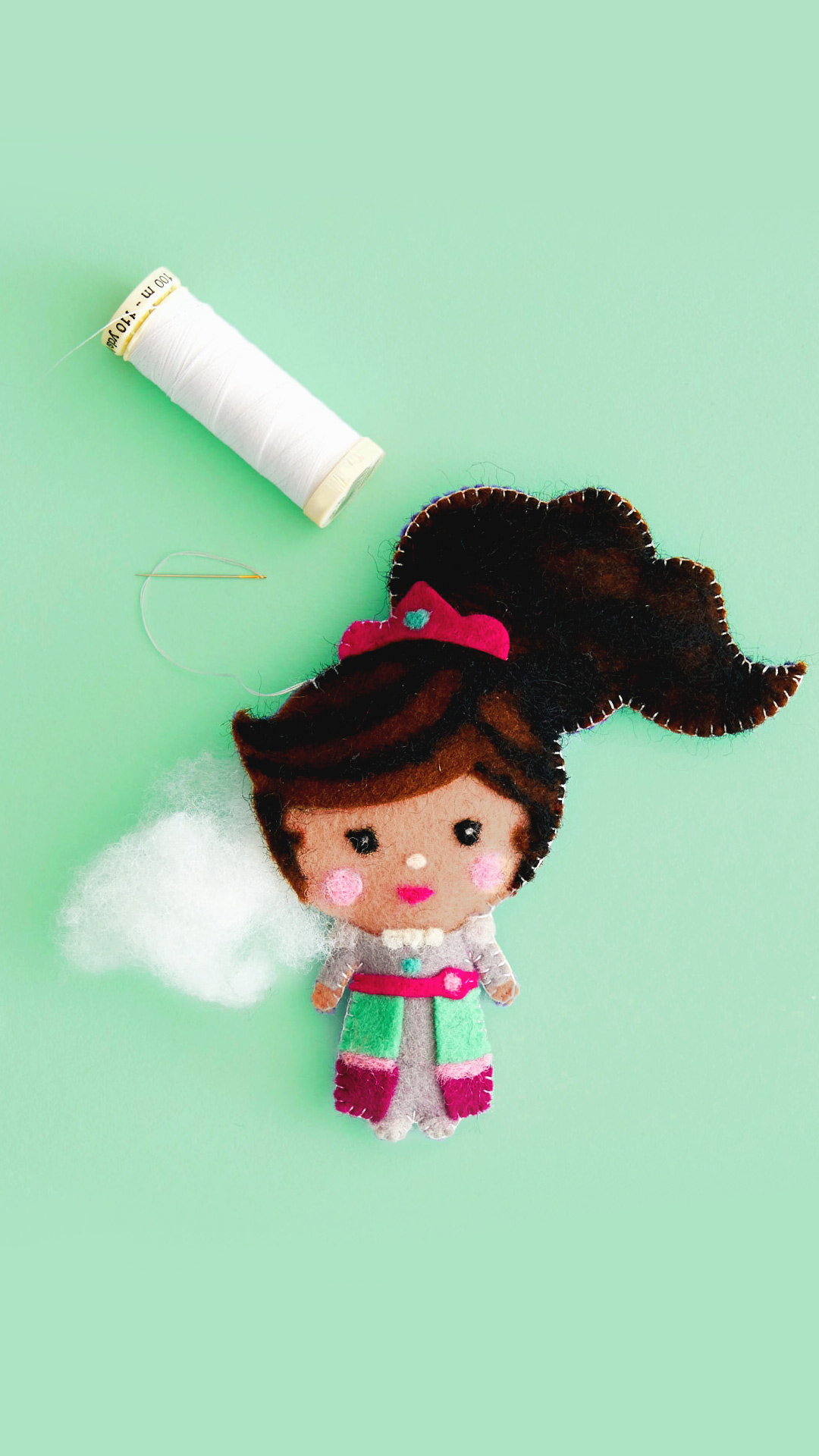 As children grow up, Christmas trees turn into time capsules decorated with homemade ornaments collected throughout the years. Decorating ornaments together is a great family holiday tradition. If you want to take a break from scrubbing glitter and macaroni bits out of kids' hair though, put your crafting skills to the test as you take a stab at turning Nella the Princess Knight into a warm and fuzzy felt ornament!
(Difficulty Level: Difficult)
What You'll Need

Wool Felt (black, brown, magenta, hot pink, seafoam green, gray, tan)
Wool Roving (black, light pink, magenta, light blue, white)
Felting needles, fine and coarse
Foam felting block
Fabric glue
Nella Template (print below!)
Printer
Printer Paper
Scissors
Double sided tape
White All-Purpose thread
Sewing needle
Craft knifen
Cutting mat
Polyester batting
Silver thread
How to Make
Step One: Print and cut out the Nella template. Apply double sided tape on back and stick to a sheet of purple wool felt.
Step Two: Cut along the felt along the outside of Nella, then repeat on a second sheet of purple felt. Set one purple felt cut-out aside.
Step Three: Now, cut the template into separate pieces: Nella's dress, hair, and crown. Match each piece with an accompanying color of felt, and cut along the outsides.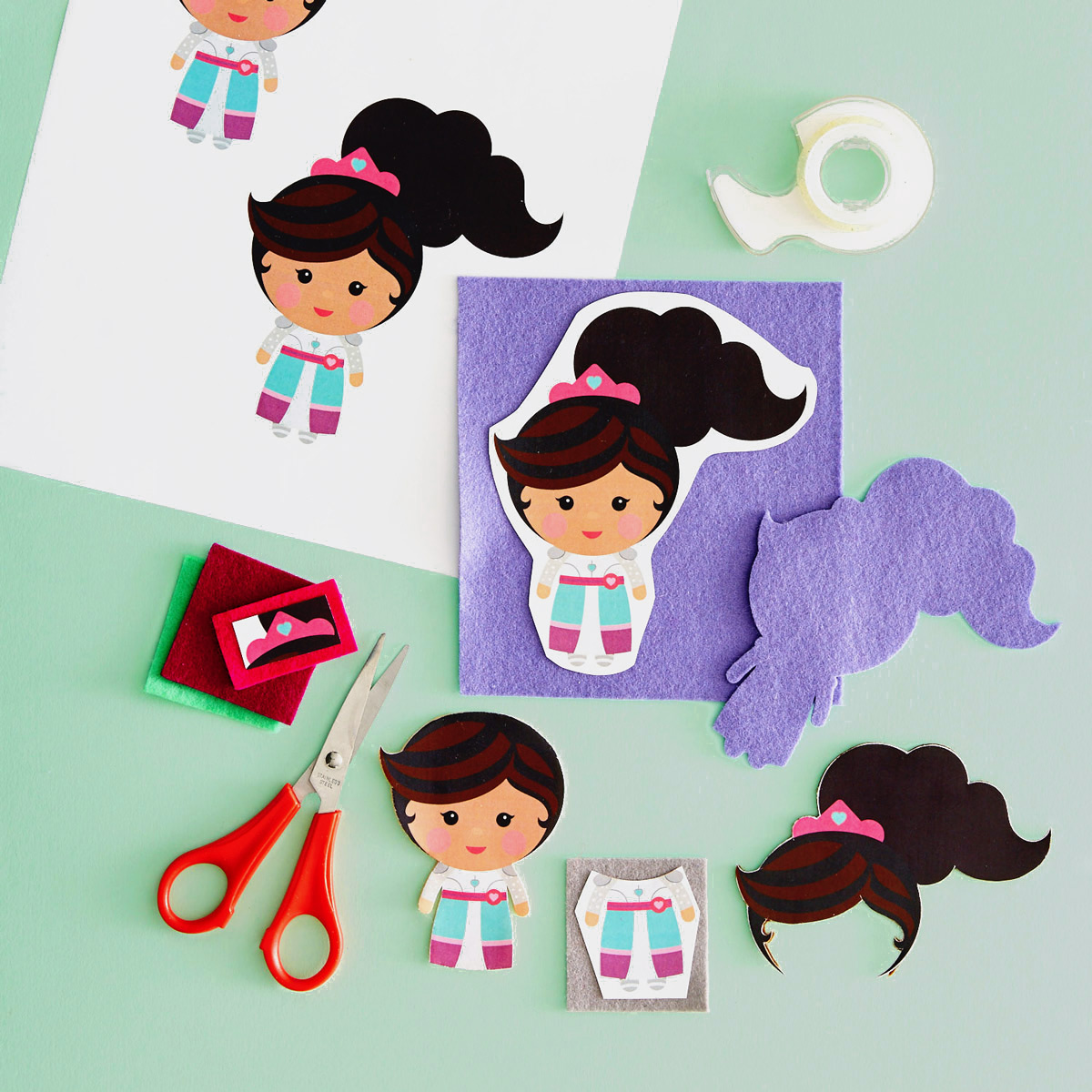 Step Four: Using a small amount of fabric glue, attach dress, hair, and crown to Nella's body, using the image above for reference.
Step Five: With a craft knife on a cutting mat, cut out Nella's eyes, nose, mouth, cheeks, and hair from the template, as shown below.
Step Six: Place Nella's cut-out face template over your felt Nella, holding in place with double sided tape. On a foam felting block, begin to needle felt Nella's face features and hair with the indicated felt fiber colors: black for her eyes, fuchsia for her mouth, pink for her cheeks, white for her nose, and black the streaks in her hair. Using a coarse felting needle and small bits of fibers, pounce in a straight up and down motion, staying inside the template lines.
Step Seven: Remove the template and use a fine felting needle to refine the details of Nella's facial features. Add a teeny white ball of wool fiber to eyes to create her pupils. Once felting is complete, stack felted Nella on top of remaining purple Nella shape.
Step Eight: Thread a needle with white all-purpose thread and knot the tail ends together. Stitch around Nella using a ⅛" blanket stitch, leaving a small opening. Stuff Nella with the polyester batting.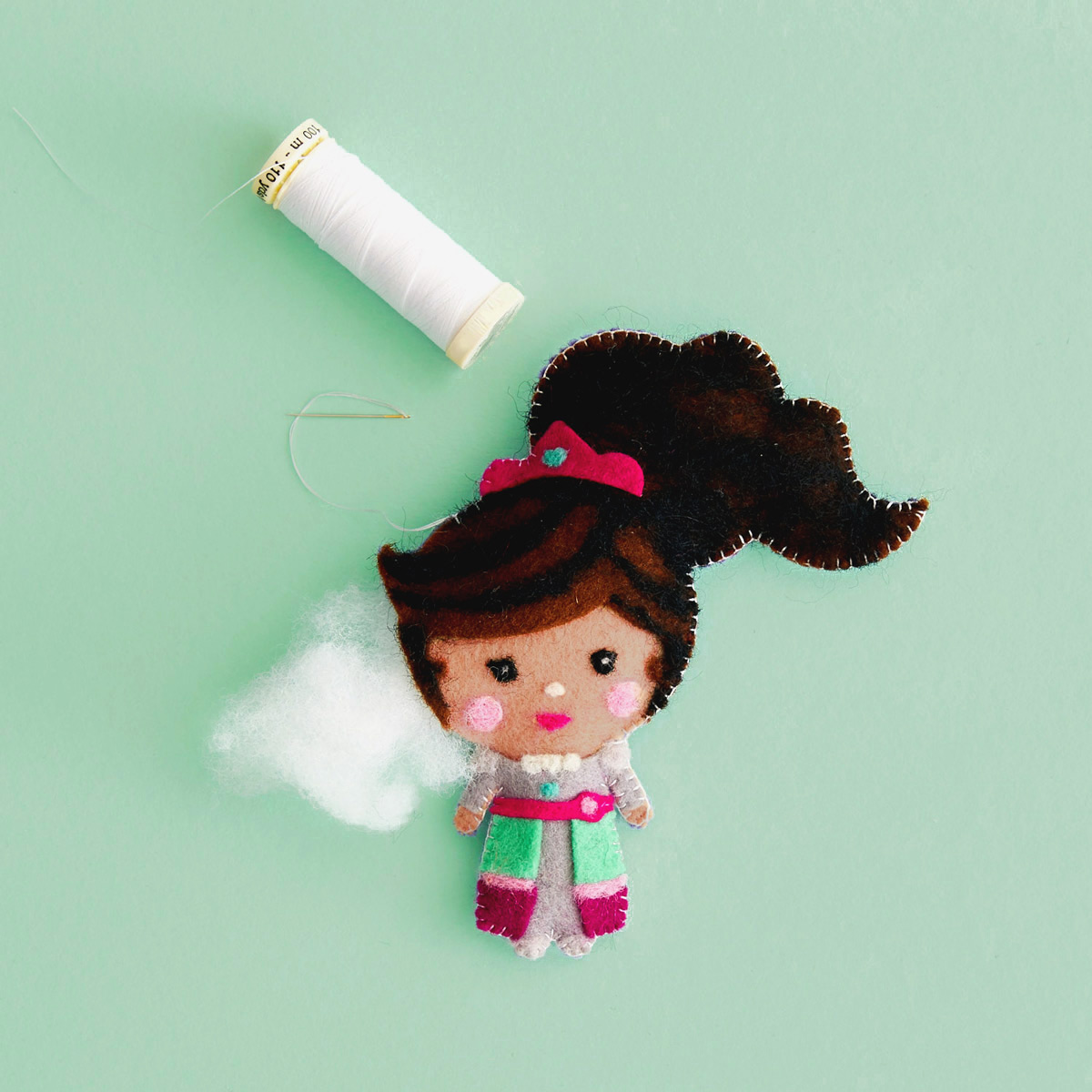 Step Nine: Once stuffed, finish the blanket stitching around the edge and knot to secure. Thread a needle with silver thread and poke it through the top of Nella's ponytail, creating a loop for hanging. Knot the loop, and your warm and fuzzy Nella ornament is ready for the tree!
The best part is, this ornament doesn't just hang on pine trees. After the holidays wrap up, your preschooler can still enjoy her powerful presence year 'round, next to their bed or attached to their backpack!
Watch more Nick Jr.! View the TV schedule here.